Friday, February 24th, 2017
State delays decision
No more water releases this spring unless warranted, ODNR official says
By Ed Gebert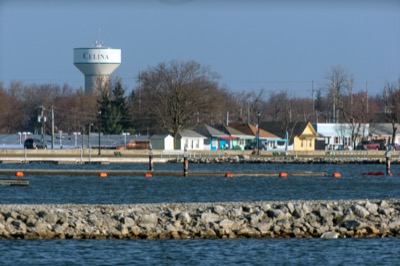 CELINA - The water level of Grand Lake will not be lowered any more this spring, unless warranted by heavy rains.
"(The Ohio Department of Natural Resources) does not anticipate any further drawdown of Grand Lake St. Marys prior to the 2017 boating season," ODNR spokesperson Matt Eiselstein told the newspaper. "However, we will continue to monitor the weather and manage lake levels accordingly to prevent potential flooding around the lake and downstream."
Concerns about lowering the lake level too much before the upcoming boating season circulated widely among lake residents and property owners. Lake Improvement Association members during their February meeting discussed the issue extensively.
LIA President Tim Lovett had told members that he was calling together members of the Grand Lake St. Marys Lake Level Management Committee to make new recommendations to ODNR. The current policy requires the lake be drawn down to 9 inches below the notch in the West Bank Spillway.
As of Thursday, the level was about 3 inches below the notch, according to Grand Lake St. Marys State Park Director Dave Faler.
ODNR halted the drawdown during the first full week of February in response to the public outcry while the lake level policy was being reconsidered.
Lovett said the committee has recommended the lake level be at the spillway notch by the end of March.
ODNR is reviewing the committee's proposal and has promised to make a decision on the overall lake level plan by the end of the 2017 boating season.
"This ought to alleviate all the drama that has been going on," Lovett said.
Lovett went on to thank ODNR Director Jim Zehringer and the ODNR staff for being attentive to the needs of people around the lake.