Tuesday, February 28th, 2017
Local forts were key in early settlements
By Sydney Albert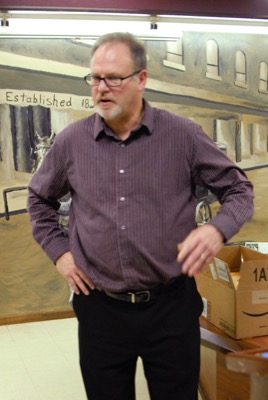 ROCKFORD - John Vining, a historical author from Willshire, spoke Monday at the Shanes Crossing Historical Society meeting on the importance of forts in Ohio during the early settlement period.
"This area was a main Army thoroughfare during at least three different wars," he said. "Three different Armies came right through here, going from one fort to another."
Vining said three different types of forts existed in the area: military forts, civilian forts and trading outposts. Essentially, he said, the Army would come through and blaze a trail, establish supply routes and defensive positions and then traders and civilians would follow soon after.
Military forts were better planned out. He described the military forts as having important roles in fortification and politics as well as playing a psychological role against Native Americans.
"When (Gen. "Mad" Anthony) Wayne would conquer something, he'd build a fort right on the place where he'd had the battle just to show the Indians, 'We beat you and we're coming to take your land,' " Vining said.
He described Wayne's 1794 campaign against Native Americans. Some of the forts he created that remain as communities are Fort Recovery, which he built to prove the United States could recover from defeat, and Fort Wayne, Indiana.
During his research, Vining found that most of the old forts in Ohio and Indiana roughly aligned with the borders drawn up by the Treaty of Greenville and were initially designed to keep the Native Americans to the north during the settlement period.
Vining also briefly discussed some lesser-known points of local history, including the Indiana Rangers. He said the famous Texas Rangers, who came later, were actually based on the Indiana Rangers.
"They were literally a cavalry force who were based out of some civilian forts," he said. "We have a little piece of local history that a lot of people don't know about that's actually very important - for Texas at least."