Wednesday, March 1st, 2017
Surprise, (no) surprise
New Bremen routs Ada for second win; St. Henry cruises past Goshen
By Colin Foster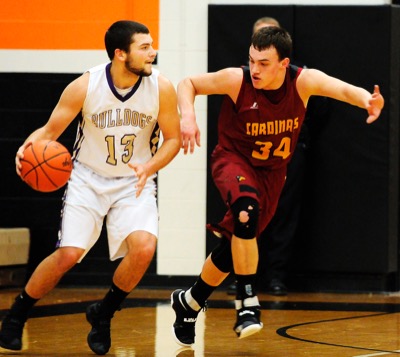 COLDWATER - It wasn't a night of nail biters in Coldwater.
To the surprise of nobody, fourth-seeded St. Henry kicked off the night with a 72-37 thrashing of 12th-seeded Waynesfield-Goshen to begin Division IV sectional play at the Palace.
Somewhat surprising was what ninth-seeded New Bremen did to eighth-seeded Ada in the nightcap. The Cardinals, with one win on their resume entering the contest, cruised to a 65-31 romp.
St. Henry and New Bremen will make the return trip to Coldwater for Friday night's sectional title games.
The Redskins (14-9) will meet Upper Scioto Valley, which enters with a record of 12-10, at 6:15 p.m.
"I think we're going to be challenged immensely," St. Henry coach Eric Rosenbeck said. "Upper Scioto Valley has two really, really good shooters. They have a solid point guard and they've got good size on the frontline. We're going to have to continue to play better basketball if we're going to come out of here sectional champions."
In the 8 p.m. game, the Cardinals (2-21) face off against Fort Recovery (15-7), which won the Jan. 13 meeting 56-38 in New Bremen.
"I think we're playing pretty well," New Bremen coach Adam Dougherty said. "We've got two days to prepare for them and they're going to come and play really hard and pressure the crap out of us. We'll get back home tonight and figure it out."

St. Henry 72, Waynesfield-Goshen 37
St. Henry had a string of close games leading up to Tuesday's tourney opener.
By the second quarter, it became apparent that the trend would not continue.
Tyler Schlarman and Caden Niekamp scored 13 apiece, Ryan Luttmer added 12 and the Redskins pulled away from the Tigers by outscoring them 18-3 in the second quarter.
St. Henry led by as many as nine in the first quarter after starting the game on a 9-2 run. Waynesfield-Goshen didn't falter, finishing the frame by outscoring St. Henry 16-9 to pull within four by the end.
Quickly, the Redskins went to work in the second. Blake Hoyng had a bucket in the paint, Luttmer and Curtis Uhlenhake followed with treys and Caden Niekamp finished an 11-0 run that sent the Redskins ahead 29-14 with 3:45 left in the half. Jarrod Bly finally stopped the bleeding for the Tigers with a three-pointer with just inside of two minutes remaining before the intermission. Luttmer added his third three-pointer with under a minute to go to put his team in front 36-17.
St. Henry held a lead of 15-or-more for the duration of the game.
"We were trying to pick them up full court (in the first quarter) and they hit some shots on us," Rosenbeck said. "We went with more of a solid-base, man-to-man defense. We were able to switch and play them at the top of the key and that was it. We really limited their good looks. That kind of broke it open for us."
Ten different Redskins scored in the win with Schlarman, Niekamp and Luttmer leading the lot. Uhlenhake and Mitch Schwieterman netted eight and seven, respectively.
New Bremen 65, Ada 31
Dougherty and the Cardinals were excited to have a new lease on life in the tournament.
They played like it on Tuesday.
Nolan Bornhorst scored 16 points, Tate Myers netted 12 and Luke Vonderhaar tallied eight points and 14 rebounds in the dominating victory.
"A lot of credit goes to our four seniors," Dougherty said. "When you walk in our gym practice wise, it doesn't look like what our record is. Our kids compete their butts off every day and they earned this. I'm proud of them."
Ada scored the first five points of the first quarter, but Bornhorst scored the next eight. Bornhorst, a freshman, totaled 10 points as the Cardinals ended the first eight minutes on a 16-2 run. After hitting their first two field goals, the Bulldogs went 1-of-7 from the field while committing six turnovers.
Ada made just 2-of-10 shots in the second quarter.
Koby Paul hit back-to-back three-pointers early in the second as the Cardinals extended their lead to 35-12 and then they increased it to 45-20 by the end.
"We were really locked in defensively," Dougherty said. "We rebounded the ball exceptionally well. We rebounded like men tonight. I thought Luke Vonderhaar did an outstanding job on the (Owen) Conley kid. He's a really nice player. He ends up with 10 and three of those were when Luke wasn't (guarding) them."
Moments later, Dougherty added: "We get to practice tomorrow."
Pre-sale tickets for New Bremen's upcoming game will be available on Thursday and Friday. Tickets will be available from 8 a.m. to 4 p.m. on Thursday and Friday in the high school. On Friday, tickets will also be available in the junior high from 7:45-8:15 a.m.