Saturday, March 4th, 2017
Cavaliers leave no doubt in capturing championship
2017 Division II Girls State Bowling Tournament
By Daily Standard Staff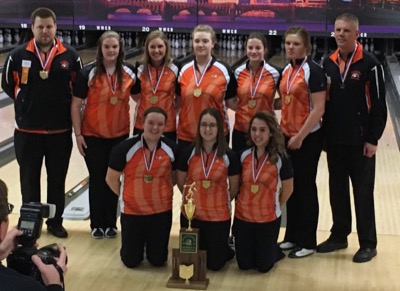 Compiled by Gary R. Rasberry

Coldwater coach Rick Hartings could see in the eyes of his bowlers that they would not be satisfied with anything less than gold.
The Coldwater girls bowling team came up with a golden effort to win the Division II state bowling title on Friday at Wayne Webb's Columbus Bowl to give the program its fourth state championship.
After finishing second in the qualifying round, the Cavaliers did not lose a game in dispatching three opponents to claim the title.
"They had revenge on their minds after finishing third last year," Hartings said. "We have a lot of experience from (winning state) two years ago. ... Whoever bowled bowled great.
"It's pretty neat to go 3-0, 3-0, 3-0 to take home the victory."
The Cavaliers finished second in the qualifying round, consisting of three regulation games and three baker games. Coldwater finished with a final score of 3,343 pins, 167 behind top-seeded Springfield Northwestern, but well ahead of the field to easily take the second seed in the eight-team championship round. "We bowled very good all day and knew we would make the cut," Hartings said. "We wanted to stay away from Northwestern. Lanes were tough and we didn't bowl great early, but when we made a bad shot, the other team would also make a bad shot, but we always finished strong."
First up for Coldwater was Jonathan Alder. The first two games of the best-of-five series was all Cavaliers with scores of 182-147 and 172-144. In the third game, the Pioneers held tough, but Coldwater held on for a 156-151 win to advance to face Norton, which beat defending champion Mechanicsburg in four games.
The Cavaliers had little trouble with the Panthers, sweeping their way to a 171-147, 153-112, 196-125 victory to make the championship match. Meanwhile, Willard defeated Northwestern in four games to advance to the finals.
In game one, Coldwater had its best game of the championship round, beating the Crimson Flashes 227-168. Willard rebounded and gave the Cavaliers a battle in the second game before Coldwater held on to win 167-159 to move to one game away from the title. In the third game, it was all Cavaliers, who won 187-148 to regain their spot as the top squad.
"It was pretty cool to bowl against Willard since they're from the Northwest District," Hartings said. "We talked in the huddle (before the final) to just bowl our game and let them make their own mistakes."
Senior Paige Hartings wrapped up her high school bowling career with a fine effort to earn first team All-Ohio honors. Hartings bowled a 614 to finish fourth in the individual standings. Teammate Emily Fortener just missed earning honorable mention All-Ohio honors in placing 16th with a 556 series, two pins back of Mississinawa Valley's Spencer Warren's 558.
Coach Hartings had high praise for Carlie Schoenherr, who finished 23rd with a 540 series.
"Carlie was on the team two years ago as a sophomore. She was that girl from the JV team that didn't really want to bowl because of the pressure," Hartings said. "She has changed. She has worked hard and bowled a ton. She absolutely bowled well. She set it up for Paige. Many times, she (got a strike) to give Paige a chance to win (games) or build the lead."
Madison Fox rounded out Cavalier finishers in the top 40 with a 33rd-place effort with a 525 series.
Mechanicsburg's Ally Hosier was state medalist with a 656 series.
St. Marys' Jaden Gibson finished 25th in the individual standings with a 539 series.
The Coldwater and St. Marys boys' teams along with St. Henry's Trey Buehler take to the lanes this morning at 10:30 a.m. for state competition.