Monday, March 6th, 2017
Crowd turns out to honor retiring Minster fire chief
By Ed Gebert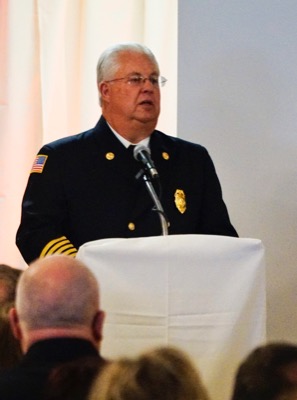 MINSTER - Well-wishers from the village, Jackson Township and all over the state turned out Sunday to honor retiring fire chief Dale Dues.
A commemoration ceremony and open house was held at the Minster Knights of Columbus Hall on Sunday afternoon to allow area residents and firefighters to offer congratulations and appreciation for Dues' 40 years of service to the Minster-Jackson Township Fire Department.
Mayor Dennis Kitzmiller was one of many to offer a tribute.
"You put a lot of time in over the years that you could have spent doing something else, and it takes a special guy to do that, and you're the right guy," he said. "You also have a lot of good guys on the department itself. They spend a lot of time away from their families, and you've all done a great job."
Dues, 65, began his career in the fire service in 1977 when he became a volunteer with the department.
"My career started when my future brother-in-law, Doug Hausfeld, talked me into filling out an application for the fire department," Dues said. "Through persistence on his part, I finally got it turned in in the nick of time, and luckily enough I was selected to be on the department."
Dues worked his way up the ladder and was named assistant chief in 1993 and deputy chief in 1995 and moved into the chief's office in 1996.
"The two biggest influences in my career were the two fire chiefs who preceded me, Linie Hausfeld and Don Lampert," Dues said. "They lived and breathed the fire department. Their friendship will be with me always."
Dues joins the ranks of the department's retired firefighters, many of whom were recognized on Sunday.
"His leadership has been outstanding," village administrator Don Harrod said. "It has also been leadership for us, for the village as well."
Also speaking at the retirement celebration was Ohio State Fire Marshal Larry Flowers, who presented Dues with a plaque.
When it was his turn to speak, Dues thanked village officials and area fire chiefs and firefighters who cooperated in mutual aid emergency calls. He also thanked his family. His mother attended the celebration, and Dues, in acknowledging his deceased father, said, "If Dad was here he'd have just as big of a smile on him today as he did when I first gave him a ride in a fire truck."
Dues had encouragement for Rich Prenger, who will take his place as chief.
"Rich, I wish you the best of luck. You're going to do a great job as chief. Let's see if you can do it for a long time," he said.
For the rest of the department, Dues said, "continue on our tradition of being a top-notch fire department. You guys have been an outstanding bunch, and I couldn't have asked for more."
Dues' term as chief will officially end at Tuesday's Minster Village Council meeting.