Tuesday, March 7th, 2017
'Sweet' Saturday for Pioneers
College Notes: Hoyng leads Marietta in NCAA tournament win
By Colin Foster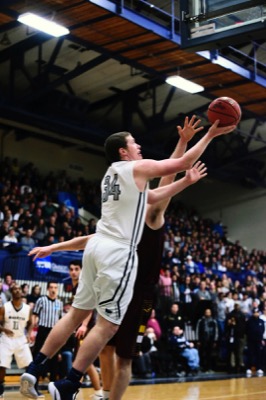 Caleb Hoyng has been a role player in his freshman season for the Marietta men's basketball team.
He played a big role for the Pioneers on Saturday.
Hoyng scored 14 points on a perfect 5-of-5 shooting - including four three-pointers - in just 16 minutes of action, and the Pioneers routed Guilford, 88-64, at Ban Johnson Arena in Marietta to secure a spot in the Division III Sweet 16.
Hoyng entered Saturday's game averaging 3.7 points and 3.1 rebounds in 14.3 minutes per game. The 14 points and four three-pointers were new career highs for Hoyng. His previous scoring high was 11 points (Dec. 3 at Baldwin Wallace) and he had never hit more than one trey in any other game.
On Feb. 25, seventh-ranked Marietta (26-4) defeated Baldwin Wallace 83-74 to claim the Ohio Athletic Conference tournament title. The Pioneers opened NCAA tourney play with an 83-66 win over Calvin College on Friday. The victory over Guilford set up a home matchup with 13th-ranked University of Rochester (23-4) at 8 p.m. on Friday. The Pioneers enter the contest on a 17-game winning streak. The Yellow Jackets earned a Sweet 16 spot with an 82-60 victory over Union College on Saturday in Rochester.
The Ohio Northern University women's team is still undefeated 29 games into the season. The Polar Bears - ranked fifth in the final D3hoops.com poll - defeated Lakeland 68-36 in the NCAA Division III opener and then knocked off 15th-ranked Trine in the second round. Next up is a home game with SUNY-Geneseo in the sectional semifinal on Friday night.
Emily Mescher, a Marion Local grad, averaged 4.2 ppg and 3.3 rpg in 25 games this season for ONU before suffering a broken foot two weeks ago.
Marion Local graduate Ryan Bruns was one of three Ohio Northern University players to earn All-Ohio Athletic Conference. Bruns was voted to the second team after setting an ONU sophomore record with 66 blocked shots. He ranked third on the team in scoring (13 ppg) and led the team in rebounds (7.5 rpg).
Senior Devon Allen (Lima Senior) and Joey Hurless (Van Wert) were first team and honorable mention selections for the Polar Bears, respectively.
ONU earned a third seed in the conference tournament and ended the year with a 72-71 loss to Baldwin Wallace. Bruns scored a career-high 29 points on 12-of-17 shooting in the losing effort.
Another Marion Local High School product, Megan Kuether, was named Offensive Player of the Year and first team All-North Coast Athletic Conference after a superb senior season for the Ohio Wesleyan Battling Bishops. Kuether led the league in scoring (17.9 ppg) and assists (3.4 ppg) and became the first player from OWU to win POY honors since Kelly Heil had done so in 2003.
Kuether, a two-time first team All-NCAC selection, joined Ohio Wesleyan's 1,000-point club during a Jan. 21 home game with DePauw. The Battling Bishops went 12-14 overall and 9-7 in conference play.
Charlie Ernst's Findlay men's basketball team will make an NCAA Division II tournament appearance for the first time since the 2013-14 season. The Oilers (23-6) - led by Elijah Kahlig (Fort Recovery) and Taren Sullivan (Bath) - earned a sixth seed in the Midwest Regional Bracket. They will travel to Louisville, Ky., for their opener against No. 3 Southern Indiana (25-4) this Saturday.
After winning the Great Lakes Intercollegiate League South Division regular season, the 18th-ranked Oilers earned a spot in the league tournament. Kahlig netted a career-high 25 points but the Oilers suffered a 100-69 loss to Ashland in the quarterfinals. Kahlig earned a place on the All-Tournament team after scoring 40 points and hitting 14-of-16 free throws in two tournament games.
Findlay then awaited its NCAA tournament fate and received the good news late Sunday night. This marks the 13th time Findlay will appear in the NCAA tournament.
Carson Manger (New Bremen) and the Lake Superior men were also knocked out of the GLIAC tournament by Ashland with an 84-81 loss in the quarterfinals. Manger scored 19 points on 6-of-10 shooting in the final game of his sophomore season. He finished the year with an average of 11.7 points per game, 4.6 rebounds and 1.8 assists.
The Lakers (16-9) did not receive an at-large bid by the NCAA Division II selection committee.
The postseason is just getting underway for Ryan Mikesell and the University of Dayton men's team. The Flyers earned the top-seed in the Atlantic 10 tournament and will open on Friday at noon against the winner of Thursday's game between Davidson and La Salle.