Saturday, March 11th, 2017
FBI agent tells students what it takes to get into agency
By William Kincaid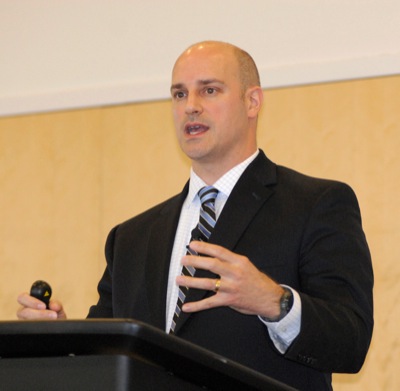 LAKE CAMPUS - Today's G-Men possess a combination of grit, intelligence, physical strength and ambition.
Wright State University-Lake Campus students on Thursday learned what it takes to become a special agent for the Federal Bureau of Investigation, an arm of the U.S. Department of Justice formed in 1908.
"I expect that any of you that want to be in my shoes someday, you can be, and I want to tell you how to get there if you're interested in joining the FBI," special agent Craig Schulte said.
Schulte revealed the requirements of becoming a special agent.
Candidates must be 23 to 36.5 years old, meet the special agent physical fitness standards, hold at least a U.S.-accredited bachelor's degree, have at least three years of full-time work experience, have a valid U.S. driver's license and be completely available for assignment anywhere in the FBI's 56 field offices, including Puerto Rico.
Special agents come from various sectors - and not necessarily the law enforcement field, Schulte said.
"We want people that have experienced something in life," Schulte said.
The FBI is looking for men and women with accomplishments and stories that underscore their character.
"My advice to folks that want to become FBI agents is this: If you have a passion and it's not law enforcement, go do that and be really good at that and then come apply to the FBI," Schulte said. "Tell us how good you are at what you do. Show us that you bring something to the table other than law enforcement, and then we'll train you to be a law enforcement officer."
That message may seem ironic coming from a special agent who was in fact a police officer before applying to the FBI, Schulte noted.
"We love to have law enforcement apply. The problem is ... you're bringing a skill set that we're going to teach you anyway," he said.
Schulte said the only advantage he had applying to the FBI as a police officer was that at his home agency he had willingly volunteered for whatever assignment or detail was offered to gain experience.
"That helped me move up the rank so when I came to the FBI I could tell them 'I was a K-9 handler, I was a field training officer. I was a patrol supervisor. I'd worked in the detective bureau,' " he said.
When applicant coordinators see education and skills such as science, technology, engineering and math; foreign language; law and emergency medicine listed on a resume, they get excited, Schulte said.
Candidates also must be physically fit, Schulte pointed out.
A physical agility test for new agents is not adjusted for age but is gender specific, he said. It's a rigorous test in which candidates must earn a cumulative score of 12 in the areas of sit-ups, pushups, 300-meter sprint and 1.5-mile run.
Schulte recommends that candidates achieve at least a score of 16 on their own before moving forward with their application.
"It's possible to make a 50, but the people that make a 50, in my opinion, are superhuman," he said. "These guys are Navy Seals, these guys are Green Berets that come to the bureau after their military service."
FBI applications today are submitted exclusively online. Upon passing numerous tests, a background investigation and polygraph test, candidates will report to the FBI Academy in Quantico, Virginia, for a 21-week Basic Field Training Course encompassing firearms, defensive tactics, defensive driving, evidence and intelligence collection and analysis, interviewing, negotiation techniques and other areas.
Depending upon the instructors and their training style, the academy can be harsh, Schulte said.
Even having been a police officer and gone through police academy he questioned at times whether the FBI was really for him, Schulte said.
Today, though, Schulte investigates national security issues and violations of federal law out of the FBI's Lima resident agency under the Cleveland Field Office, where national security is the No. 1 priority.
"Obviously we drop everything for terrorist acts, protect the United States against foreign and domestic attacks, any kind of cyber-based threats and counterintelligence," he said.
Many civilian jobs also are available at the FBI, Schulte noted.
"Anything that you could do in the civilian world you can do it in the FBI, whether you want to fly aircraft, whether you want to build devices. You name it," he said.
The FBI's facilities are almost like a small city.
"We do a lot for ourselves because we want to make sure that whoever's working on our business, whoever's working on our cases, that we know that they've been backgrounded and that we know that we can trust them, that none of our information's going to get in the wrong hands," he said. "No matter what your discipline is, there's a job for you in the FBI."
FBI jobs and requirements can be viewed at www.fbijobs.gov.