Monday, March 13th, 2017
Local youths find a cure for 'zombie virus' at library
By Sydney Albert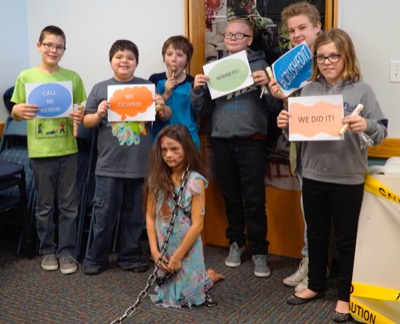 CELINA - In a back room at the Mercer County District Library, curtains were drawn and scant rays of sun and flickering electric candles were the only source of light for a group of children "trapped" inside.
Some fiddled with padlocks on a box, guessing at combinations, while others eyed plastic skeletons, the scattered post-apocalyptic messages and images on the walls - and, of course, the zombie chained in one corner of the room.
"The idea is, this is the zombie apocalypse, and they've all been exposed to the virus," said Renee Carpenter, the organizer in charge of Friday's escape room event. "They have to unlock the box with the antidote in it. There are four locks on the box, and there's other locks throughout the room."
The kids had about an hour to unlock the box. The keys and combinations to each lock were hidden in puzzles or hinted at by clues, along with multiple possible routes to lead them to victory. Though the children had a limited number of hints and could ask Carpenter to help them along, it was largely up to them to work together and figure out what the clues in the room meant.
They weren't alone, however - the zombie, played by Renee's daughter, Lily, was chained in the room with them. The longer they took to unlock the cure, the farther the zombie could move into the room. If one of the kids was "infected" by the zombie's touch, he or she had to go into a quarantine zone and couldn't help the group for 10 minutes.
"It's fun and it's free and it gives the kids something to do," Carpenter said, looking on as the children searched under tables and speculated over riddles.
Carpenter said she'd like to offer more escape-room scenarios with different themes, both for younger kids and adults if the event proved to be a success.
"I really hope that they're having fun and that they tell their friends, and I can keep doing these like every month or something," she said.
The zombie theme was just a random idea that popped into her head, she explained, but she has more ideas in mind for future events.
The first group to participate came down to the wire, with even Carpenter's heart pounding by the end, but at last they managed to unlock the cure - in the form of candy - with a few minutes to spare. As the kids all took their "medicine," Carpenter asked if they had had fun and would like to do something similar in the future. They answered with a resounding "yes."
For those interested, more zombie escape-room sessions will be offered from 5-7 p.m. Friday at the library. Children in grades 7-12 are invited. Registration is available at mercerlibrary.org.