Tuesday, March 14th, 2017
More power to you
Local man flexes his muscles with cars
By Tom Stankard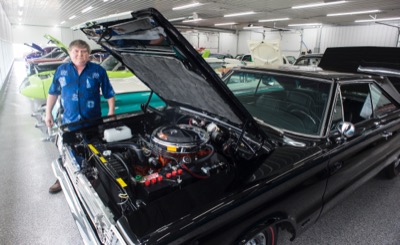 CELINA - Before his feet could reach the pedals, Bruce Lockwood had a love affair with cars.
He has enjoyed tinkering with the machines since he was a child, he said. He also liked spending hours as an adolescent in the garage while his friends were out on the town.
In August 2015, Lockwood took his passion for cars and opened Custom Rods and Muscle, 7051 Havemann Road, Celina.
The location features a garage and showroom. In addition to Custom Roads and Muscle, he owns Lockwood Performance, a garage and speed shop.
While giving a tour of his showroom featuring more than 40 classics, most built before 1972, Lockwood talked about the 1965 Chevrolet Malibu on display. He said the convertible was very popular and stylish.
He likes to focus on cars built before 1972 because that was the year the U.S. government started to enforce emission controls, causing manufacturers to take the "horsepower out of the cars."
"Back then, you didn't hear about global warming or greenhouse gases," he said.
He also showed a 1970 Plymouth Superbird 440 Six Pack, which he calls a "must-see for any collector."
This vehicle was a "total restoration that started from bits and pieces," Lockwood said. Some of the parts, he had to "shovel off the floor." He said the car is "nicer now than when it was in factory."
Auto company employees in the 1970s considered their work as just a "job," he explained.
As a result when workers were putting the emblem on the trunk, they would "slap it on the trunk crooked," he said, jokingly.
In the garage, Lockwood and his crew were working on a 1968 Dodge Charger and 1967 Chevy Chevelle. He said the owners want their cars to drive like a modern one does.
"It's going to have a lot of the features that a lot of people want," he said. "They still want the old metal from the old muscle-car period, but they want to have the newer features."
Lockwood said he still prefers a classic over modern, and many people feel the same way.
"Take the Chevy Camaro, pull it into a gas station, and people will be drawn to it more so than even a modern Chevy Corvette," he said.
The reason, Lockwood said, is because people feel connected to classic cars.
"Most people can relate to something about them," he said. "They may have had that car when they were younger or always wanted that car. Customers sometimes ask for a particular car, saying, 'I had that in high school' or that was my first car.' "
When the weather is nice, Lockwood said he enjoys displaying the vehicles outside for people to see.
"It's amazing how many people will stop, check out the cars, and say, 'Thanks for the memories,' " he said. "Both young and old admire these cars."
In the "good-old days," Lockwood said he liked to identify passing cars.
"I would say, 'there goes a 1965 Chevy Impala' and 'there goes a 1968 Ford Mustang.' "
Unfortunately, he said it's hard to do that these days. Today, automobile manufactures have replaced a focus on style with making the vehicle more fuel efficient and lighter.
He said people don't like to spend time in the garage anymore.
"Now, it seems like everyone's time is so precious and they don't want to spend their evenings in the garage. That was such a huge deal in my time," he said.
Despite the ever changing times, Lockwood said one thing will never change - his love of cars.