Monday, March 20th, 2017
Officials prep for bad weather
Mercer and Auglaize counties to take part in statewide tornado drill
By Sydney Albert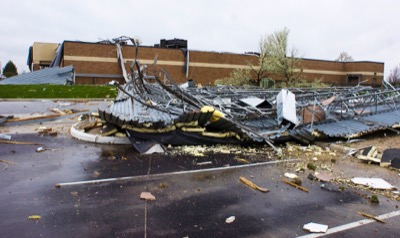 CELINA - Officials in Mercer and Auglaize counties will participate in a statewide tornado drill at 9:50 a.m. Wednesday as part of the newly declared Severe Weather Awareness Week.
Gov. John Kasich has proclaimed March 19-25 as Severe Weather Awareness Week, and in a news release he encouraged all Ohioans to learn how to protect themselves from spring and summer weather hazards. During Wednesday's drill, officials also will test the state Emergency Alert System. School and business leaders and residents are encouraged to practice tornado drills and emergency plans during this time.
Mike Robbins, Mercer County Emergency Management director, said it's important that people make a plan for emergencies if they don't already have one.
"Online lists are great, but everybody's got to look at their own situation," Robbins said. "You need to have at least three days' worth of supplies for whoever you have in the house - if you have a baby, you need three days' worth of baby food, diapers, whatever you need. People need to sit down and figure out what can't you go three days without?"
Troy Anderson, Auglaize County EMA director, said along with food, water and medical supplies, people should keep a physical list of emergency contacts. Many people have their contacts listed in their phones, but Anderson says it's important to have a backup in case the phone dies in an emergency situation.
Ohio's springtime hazards include tornadoes, thunderstorms, floods and even snowstorms through early spring.
To prepare for tornadoes, first ensure that everybody in the household knows the difference between a tornado watch and a tornado warning, Robbins said. A tornado watch means conditions are favorable for the development of tornadoes, while a warning is issued when a tornado is imminent or occurring. In the case of the latter, people should seek shelter immediately.
Robbins recommended the acronym DUCK for tornado drills and warnings. Go DOWN to the lowest level of the house or building or to a room away from any windows. Get UNDER something, such as a basement staircase or a heavy desk and COVER your head. KEEP in shelter until the storm has passed.
In the event of flash flooding, people should move immediately to higher ground. Flash floods are the No. 1 cause of weather-related deaths in the United States, according to an Ohio Emergency Management Agency news release.
Anderson recommended sandbags for anyone who lives in an area that has flooded in the past. To save money, he suggested people make their own by taking Visqueen or garbage bags and filling them with landscaping supplies they might have on hand, such as dirt.
Motorists who come to a flooded area should turn around and go the other way, according to the news release. Many people have died while attempting to drive or walk through flooded roadways. Just 6 inches of moving water can knock over an adult, and 2 feet of rushing water can carry away most vehicles, including SUVs and pickup trucks.
If floodwaters rise around a car but the water is not moving the driver and passengers should abandon the car and move to higher ground. If the water is moving, they should not leave the vehicle.
According to Ohio Fire Code, schools must conduct tornado drills at least once a month whenever in session during the tornado season. Although under this code Ohio's tornado season is April 1-July 30, the National Weather Service confirmed on March 1 that seven tornadoes have touched down in southern Ohio so far this year.
Schools participating in the statewide drill can usually credit that date as their required April tornado drill, but administrators will need to verify that with local fire chiefs.
More fact sheets and information on all of these hazards and how to prepare for them can be found at www.weathersafety.ohio.gov. Mercer and Auglaize County EMAs will host a joint weather spotting class at 6:30 p.m. Tuesday at James F. Dicke Hall, Wright State University-Lake Campus. Robbins said the class provides a great opportunity for people to learn to spot hazardous weather conditions and be more prepared.