Thursday, March 23rd, 2017
New juvenile court program is working out
By Ed Gebert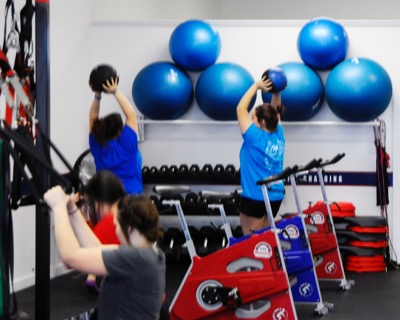 CELINA - An exercise program for minors involved in the Mercer County juvenile court system is having "very positive results," judge Mary Pat Zitter said.
The exercise program grew out of Zitter's Expanding Horizons Program. She and her chief probation officer Angie Gehle in about 2010 had discussed starting a runners' club with the kids, Zitter said. Soon, Gehle and probation officer Jennifer Contreres were running with girls along the bike path three or four times a week in the summer.
Gehle and Contreres said the girls were succeeding and decided to take the next step.
"They came to me with the suggestion of an exercise program. We started off first with girls and then moved into boys," Zitter explained.
Now, on most weekdays a group of minors in the program works out with weights and other exercise equipment at F45 Training gym on the north side of Celina. Some days just the girls take part and other days just the boys. Sometimes both groups get together for activities in a fun, supportive setting, she said.
"It's a good workout, and we like the team environment that they get here," Gehle said.
The Expanding Horizons program is mandated by Zitter through the court system, but in this program, being forced to participate quickly turns into wanting to participate, Zitter said.
"I order them into the Expanding Horizons program," she said. "How they handle it depends on them. For the running part, especially in the very beginning, we have children who are forced to get up early in the day in the summertime and make them go out and exercise. Most adults don't like to do that.
"For the exercise program, the response is almost immediate. They help each other out. The people who are there, just normal citizens, they encourage the kids. Kids encourage them. The positive aspects of this is more than I anticipated, and I'm extremely happy about it."
F45 owner Kristin Rutledge said one of her goals when opening the gym was to help people struggling with addiction turn to more positive activities.
"It's proven that exercise can really be a positive addiction that will replace negative addiction," she said. "So, it was just like, meant to be."
The positive effects are more than just helping young people get into shape, Gehle said.
"They come here, and even when the girls are working out, we have male trainers, and they are very motivating to the girls," she said. "They're saying positive things those girls have never heard before, and really reassuring them and encouraging them, and you can see the girls, their faces will just light up. It really inspires them to want to work harder and then come back. They like that positive feedback."
Rutledge said the positive team environment gets them to work together, building their confidence while having fun in the process.
"We've seen such a change in them from day one until now," she said. "Like when they first came in, they were wearing jeans and street shoes, and now they're getting workout shoes and tennis shoes and trying out for sports and other activities. They've totally changed themselves."
One of the participants, Loren, joined the program in October.
"It's a good experience, and I love coming here," she said. "Every time I get the chance to come here, I come here. It's a good environment, and it helps you get our anger and our stress out. This is a good place to go."
Another participant, Emily, said, "I love the music, and I feel like I'm getting in shape."
The program will continue through at least May. A decision still needs to be made if the runner's club will start up again this summer, but the participants are sure they want the exercise program to resume, even if it moves to the bike trail for the summer.
"If they aren't court-ordered to come, but they want to come, we look at that as a positive thing," Gehle said.
Zitter said that she doesn't know of any other juvenile court offering this sort of program.
"Because we have had such positive things happen, particularly with the exercise program, I will be talking about that during the summer conference for juvenile judges or maybe at the next winter program," she said. "I have not heard anyone else talk about it. I'm sure there are, I just don't know about them."