Saturday, March 25th, 2017
Wetlands to treat wastewater discharge
By William Kincaid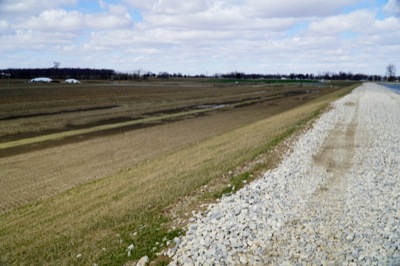 MONTEZUMA - County officials are installing six acres of wetlands at Montezuma Club Island wastewater treatment plant in a bid to further enhance the quality of discharge that flows into Beaver Creek and ends up in Grand Lake.
The Ohio Environmental Protection Agency-approved three-year pilot test, set to commence this summer, will assess the effects of adding wetlands close to the plant's four lagoons, county sanitary director Kent Hinton revealed to the newspaper.
The plant is located along Guadalupe Road in Franklin Township and services more than 2,000 residential and commercial customers on the south side of Montezuma from Johnson Road near Coldwater Creek to past Behm Road.
Hinton believes this will be one of the first EPA-authorized wetlands pilot study at a wastewater treatment plant - and potential benefits are manifold.
He hopes the test shows that the wetlands act as an extra safeguard against phosphorous loading into Grand Lake. Phosphorous is the food source of toxic blue-green algae that have prompted a recreational no-contact order since July 30, 2015.
The Ohio EPA set a phosphorous discharge limit of 1.5 parts per billion at the plant, but testing has consistently come in well below 1.0, according to officials.
The voluntary wetland initiative is just another example of Mercer County taking the lead by example through testing new and innovate ways to "knock the numbers down even farther," county community development director Jared Ebbing said on Friday.
Also, Hinton said he "would like to see a low cost way of removing phosphates from wastewater without having to add a bunch of expensive chemicals to our plant."
Under a best case scenario, wetlands would allow for full evaporation of treated water during hot dry times, leading to "zero discharge in Grand Lake," Hinton said.
"Add water to a wetland, let it evaporate during the summer and we could get rid of water that way," Hinton said. "That takes us completely out of the picture of harming the lake, not that we ever have."
And officials would never have to add a costly fifth lagoon to accommodate future growth at the plant, which sits on 40 acres. County commissioners in 2011 acquired a $1.14 million Water Pollution Control loan to construct a fourth lagoon and install aerators in two lagoons at the plant.
The fourth lagoon increased load capacity from 350,000 gallons to 600,000 gallons per day.
"If we could build a big wetland on (a nearby) 12 acre site, we might be able to go to evaporative on 60 percent of our seasons and not have to discharge anything," he said.
Plant employees late last fall began moving and compacting dirt and building an embankment on six ares of county land used as a buffer zone between the lagoons and Cassella Montezuma Road. Workers over the winter then planted wetland seeds.
Aside from equipment rental and extra fuel, the wetland area was developed in-house at no additional cost to the plant, Hinton said.
"With all the good results that's coming from the treatment trains ... it seemed like a good fit to put something like that on our finished side of our wastewater facility," Hinton said.
The county's two treatment trains on Prairie and Coldwater creeks filter phosphorous and other nutrients from the water before they reach the lake. A third treatment train, unrelated to the wastewater treatment plant wetlands, is planned for the Beaver Creek between Guadalupe Road and Montezuma.
Hinton, Ebbing and engineers with KCI Engineering and Access Engineering met with Ohio EPA officials in January to further discuss the proposal. The Ohio EPA, Hinton said, authorized a three-year pilot study that will allow officials to begin discharging a very small amount of treated wastewater beginning in July.
Under the current EPA permit, plant operators are allowed to discharge treated water only from November to May when there's stream flow, usually during rainfall.
"They're granting us that (exception) in the pilot study because preliminary results have shown that this will clean the water up," Hinton said.
Assuming test results confirm a reduction in phosphorous, plant operators could be allowed to discharge year round, Hinton said.
"This will allow year-round discharge so we're not waiting for that window in the winter because the water will be so much better," Hinton said.
The two engineering firms are currently in design mode, looking at water flow rates, nutrient reduction and other protocols, Ebbing said. Likely, bids will be sought for the installation of a discharge pipe from the wetlands to the creek.
A total cost estimate has not yet been calculated, he said.
Officials aim to begin discharging in July. Samples will be closely monitored by Hinton, Ebbing, engineers and the Ohio EPA.
"There'll be a lot of interested eyes looking at this," Hinton said. "Since this is new with Ohio, (EPA) almost have to have somebody build it so they could see some numbers to see if this is a go and then it could open the door for the rest of the state."
If proven successful, wetlands would be a much more affordable alternative than adding a lagoon for smaller-sized wastewater plants with land to spare, Hinton said.
"Some of these smaller communities with these lagoons, they can afford four, five, six extra acres and it's relatively inexpensive treatment because it's all natural," he said.