Monday, March 27th, 2017
Aviators rough up Cavaliers
By Gary R. Rasberry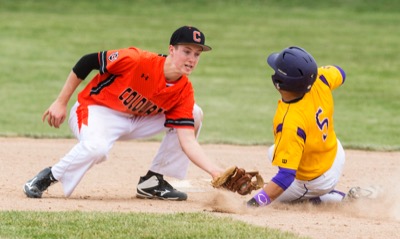 COLDWATER - The start of the season-opening baseball game was one that Coldwater fans didn't want to see.
Vandalia-Butler scored five times in the top of the first and capped off its day with a seven-run sixth as the Aviators run-ruled the Cavaliers 18-2 in six innings at Veterans Field.
Cavalier starting pitcher Dylan Thobe struggled from the first batter. Damon Dues, who will play next season at Wright State, led off with a double, went to third on a sacrifice bunt and scored on a two-run single by Joe Jackson. Butler scored five runs off Thobe in just two-thirds of an inning as Jackson scored on a passed ball and then Jacob Moss doubled in two runs, which ended Thobe's tenure on the mound.
"Couldn't ask for a poorer start than (the first inning)," Cavaliers coach Brian Harlamert said.
"They get five in the first off our ace. From the second and third innings, I thought we competed with them."
Jacob Wenning came on in relief of Thobe and got the final out of the first inning and retired the side in order in the second and third innings before the Aviators plated five more runs in the fourth. Dues tripled in two runs and after Braedon Norman singled in Dues, Tyler Burley homered over the scoreboard in left to make it 10-0.
Meanwhile, Norman, a sophomore who has already committed to Wright State, was shutting down the Cavaliers. After hitting Sam Broering with one out in the first, Norman retired the next nine batters before Thobe broke up the no-hitter with a single. One out later, Nathan Grunden broke up the shutout with an RBI double to make it 10-1.
Butler scored in the fifth to make it a 10-run lead again, but the Cavaliers held off the run-rule with another run. Ryan Knapke led off with a double and later scored when Broering reached on a two-out error.
The Aviators put the cap on their day in the sixth off Brad Giere. Butler sent 12 men to the plate and plated seven runs. In the bottom of the sixth, Zach Crawford allowed just one walk before getting the final out to close the game.
"They're a good team," Harlamert said of the Aviators. "I know we're a young and inexperienced team, but we'll keep playing. It's Game One, not the last game of the season."
Dues, the son of Butler coach and former Cavalier standout Trent Dues, went 4-for-5 with two doubles, a triple and two RBI. Henry Barwick and Preston Tofstad each added two hits.
Coldwater returns to action Tuesday at Fort Loramie.