Wednesday, March 29th, 2017
Celina tennis team goes to 2-0
By Gary R. Rasberry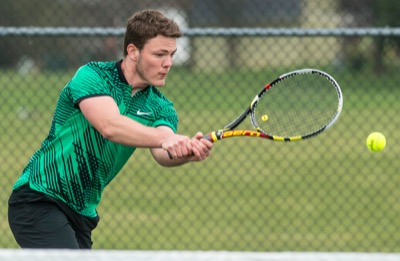 CELINA - The chilly damp conditions didn't bother the Celina boys tennis team as the Bulldogs improved to 2-0 on the young season with a 4-1 win over Lima Central Catholic at the Booster Club Tennis Complex at Celina High School.
Of the eight sets won in the four matches, seven were 6-0 shutout wins.
"We're getting our feet under us," Celina coach Toma Hainline said. "We played some very young teams the past two days. That's a benefit of having an older team. We've got a real tough team in Shawnee (in the Western Buckeye League opener) next Tuesday. That's a tough one to start the league with."
Heath Laux in second singles and Drew Rosengarten in third singles brought home straight set 6-0, 6-0 victories with Laux defeating Steven Taflinger and Rosengarten beating Ben Kinapke.
The Celina second doubles team of Sohaib Saleem and Garrett Forlow produced the third 6-0, 6-0 victory of the day aginst Jake Evans and Conner Cary. The first doubles team of Bryce Langenkamp and Kyle Lochtefeld won their first set over Mark Janowski and Matt Cecala 6-0 but gave up a game in the second set to settle for the 6-1 win to sweep the set.
Ben Brinkman prevented the Thunderbirds from being shut out on the day in beating Garrett Weininger 6-3, 6-2 in first singles.
"The one thing I emphasized tonight is to play efficiently and work on what you need to work on," Hainline said. "That's how you want to be when playing against a young team."
Celina won both exhibition singles matches with Colin Harris and Justin Warnement. Winning doubles exhibition matches were Michael Johnson and Zach Haines, Brenden Schmidt and Conner Ewing, Toby Drexler and Grant Guggenbiller and Thomas Zender and Brandon Schmidlapp.
The Bulldogs are off the rest of the week before traveling to Shawnee Township next Tuesday to face Shawnee.