Monday, April 3rd, 2017
Best in the field
Lady Bulldogs win home invite, boys third
By Colin Foster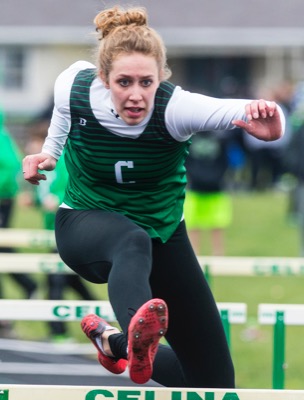 CELINA - The Celina girls track team have won 26 Western Buckeye League titles, including the last five in a row.
The Bulldogs looked the part of champion on Saturday at the Celina Invitational, featuring five other league teams.
Celina established dominance early in the field events and cruised in the running events - amassing 168 points on their way to the team title. Elida finished second with a score of 118 1/2.
The race to the boys' team title was a little more dramatic.
Celina held a narrow lead over Defiance and Elida with two events remaining, but both Elida and Defiance leadfrogged ahead of the host team at the end of the meet to share the team title with 123 points each and Celina placing third with 120 points.
GIRLS
It was over after the field events as Celina established a massive lead with a strong collective performance in the field and continued to pile on the points in the running events.
"The field events kind of set the table," Celina coach Eric Wagner said. "Paige Sutter threw very well today. ... Kelly Moeder pulled out a very nice jump in the long jump for a win. Alyssa Hoyng won the high jump on her first jump. She didn't even come in until 4-10 because of my decision to pass her on 4-6 while she hurdled. She came in and cleared it with no problem. We had a first-year runner, Maddy Ross, who ended up tying for second in the high jump, which was a big surprise. So just from the field events we had 70 points off the bat, and then things just clicked in the running events."
The Bulldogs finished the day with seven first-place finishes and seven runners-up.
Paige Sutter swept the throwing events, winning the shot put with a put of 41-10 1/4 and the discus at 111-10. Kelly Moeder's winning mark in the long jump was 15-7 1/2. Alyssa Hoyng was four inches ahead of the next closest high jumper and also placed second in the 100 hurdles with a mark of 17.07 seconds.
Celina's Lauren Jackson won the 800 with a time of 2:26.17, 10 seconds ahead of Defiance's London Moening.
Celina's Lauren McDonough and St. Marys' Kelly Wilker battled for supremacy in the distance events. Wilker bested McDonough in the 1,600, posting a winning time of 5:24.72 compared with McDonough's 5:26.94. McDonough bounced back to win the 3,200 with a victory mark of 11:43.38 to Wilker's 11:52.91.
"You run against somebody over and over and over again, it makes it a little more difficult," St. Marys coach Rob Cisco said. "Lauren ran really hard and ran really good in the 3,200. It was a very respectable time. That type of time this early, she should be fighting to get to state this year in Columbus. She's a kid who's battled some injuries throughout her career, and I hope she gets there because she's got a great work ethic and she's a good kid. Kelly's a fierce competitor and I think that will fire Kelly up. It wakes you up for the season, which was good. It was a good couple races for Kelly and will help in her progression to finish the season strong."
Celina's other winner was the 4x800 relay team of McDonough, Emma Lutz, Nicole Bowsher and Jackson, who posted a time of 10:14.28.
Among the second-place finishers for the Bulldogs were Kendall Gilmore (pole vault), Kaeli Schrolucke (discus), Maddy Ross (high jump), the 4x100 relay team of Alayna Webb, Reilly Cox, Alyssa Cisco and Moeder and the 4x400 relay team of Kenzie Conn, Ashtyn Phlipot, Cisco and Jackson.
"When you score three people in an event, that helps you out," Wagner said. "You can't coach the depth. That's just something you get with people who love the program and want to run."
BOYS
The Celina boys were missing a handful of key pieces for various reasons and still nearly won.
A late push by Defiance secured a tie with Elida for the team title and made for a fantastic finish in the boys meet.
Coach Wagner was proud of the performance his team gave but disappointed with the final outcome. He thinks it might have been a different story, had he had his team at full strength.
"This is a good meet," Wagner said. "You get a chance to see what everybody has in the league. I thought the overall effort the kids gave today was great. We didn't really miss in many events and the events we missed in were the events we were missing kids in."
Remington Hill was a multiple-event winner for Celina. Hill won the 100 dash in 11.54 seconds and the long jump with a mark of 19-7 1/4.
"Remington Hill's performance stood out," Wagner said. "He won the 100, which was a surprise. He dropped three-tenths of a second to win the 100. He also jumped really well in the finals of the long jump to win it."
Celina finished 1-2 in the shot put. Ian Hawkins' throw of 45-10 1/2 landed him the top spot and Tyler Ross was second with a 45-0 1/2. Hawkins also won the discus with a throw of 127-0.
Earning runner-up honors for Celina were Conner Mills (110 hurdles) and Kyle Flaute (high jump).
"I think we had a pretty good day," Wagner said. "When we get everybody back, we're going to be a pretty good team."
Seth Vorhees gave the Roughriders their lone first place by winning the high jump with a 5-8.
Austin Smith placed second in the pole vault for the Roughriders by clearing 12 feet. Elida's Gabe Makin tied the meet record with a 14-0.
The Roughrider quartet of Ty Schlosser, Shannon Fowler, Sean Perry and Demarcus Fountain placed second in the 4x200.
Fountain, a first-year runner, took runner-up honors in the 200.
"Demarcus had a really great day," coach Cisco said. "He's a first-year senior runner, never ran track in his life. We've tried to get him out for the last couple of years and finally this year, he decided to do it and, lo and behold, the kid's pretty gifted."
St. Marys finished fifth in both girls' and boys'; with 38 and 49 points, respectively. Cisco said he was pleased with the performance all things considering.
"We had quite a few good individual performances today," he said. "We have a few key athletes who are injured for today, and that's always a headache when you're battling injuries and other things in the spring. But we're very optimistic with where we're going."