Wednesday, April 5th, 2017
Wildcats run-rule Tigers
By Colin Foster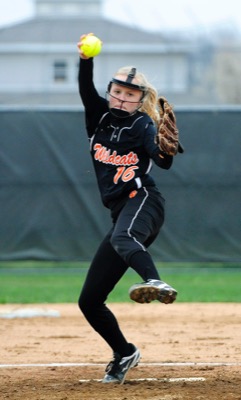 MINSTER - The game between Minster and Jackson Center looked headed for a close finish.
Then it got out of control quickly.
Trailing 3-2 entering the bottom of the fifth, the Wildcats scored three runs in the bottom half and then went off for eight more in the sixth to trigger a 13-3 run-rule victory on Tuesday at Four Seasons Park.
With the win, Minster improved to 5-1.
"We didn't know how many games we'd be able to get in early in the season, and thankfully we've been able to get six games in and we've got things rolling in the right direction now," Minster coach Robb Hemmelgarn said.
Laney Hemmelgarn pitched six innings of one-hit baseball for Minster, with all three runs being unearned. The freshman pitcher struck out four and walked five as she won her second straight start of the season.
"She responded well tonight," coach Hemmelgarn said. "She started on Saturday at Delphos Jefferson, so she is now 2-0. She's hopefully gaining confidence as the innings go on and as the games go on and by the end of the season, we're hoping we can have a solid one and two."
In the first inning, Hemmelgarn walked leadoff batter Katelyn Sosby, who soon after advanced to third after a pair of passed balls and then scored on Cassie Meyer's fielder's choice for a 1-0 lead.
The Wildcats tied the game in the third. Alice Schmiesing walked to begin the inning, stole second and moved to third on a throwing error by the catcher. A grounder by Danielle Barhorst scored Schmiesing.
Neither team had a hit through three innings, but Meyer gave Jackson the game's first hit with a single to right field to open the fourth. Hemmelgarn walked Connor Pipke to put runners on first and second with no outs, but the Tigers did nothing with the chance. Second baseman Karly Richard fielded a grounder, tagged Pipke and threw to first for a double play. Hemmelgarn struck out the next batter for the final out.
Taylor Homan had Minster's first hit - a double - to begin the home fourth. Homan stole third and later scored the go-ahead run on a passed ball.
But the Tigers overtook the Wildcats again in the fifth. Minster committed three errors in the inning, which allowed Jackson to score two runs.
An RBI single by Barhorst tied the game at 3-all in the fifth. Barhorst gave Minster the lead for good when she scored from second on an infield single by Jenna Poeppelman. Poeppelman was on third when Homan drew a walk. Homan bolted for second immediately and got caught in a pickle. She made it to second safely and Poeppelman swiped home in the process for a 5-3 lead.
Then Minster lit up the scoreboard for eight runs in the sixth, benefitting from five walks, one hit batsman and one JC error. Richard ended the game with a two-run home run to left-center field.
"Karly's a powerful hitter for us," coach Hemmelgarn said. "That's our second walk-off home run here at this park, so hopefully we can keep that trend going. It was a fastball down the middle and she took it.
"With this team, in five games, you know it's just a matter of time to get it going," he added. "I didn't think that inning was going to come tonight, I really didn't. I thought it was going to be a dogfight until the end, but once that first runner got on you could really see the confidence go all the way down the bench."
The Wildcats finished with 10 stolen bases, with Homan leading the lot with three. Barhorst and Poeppelman each had three RBI in the win.
Minster's next game is at home with Houston on Friday.