Saturday, April 8th, 2017
Clients' info not for sale
Area internet providers weigh in on rule change
By Sydney Albert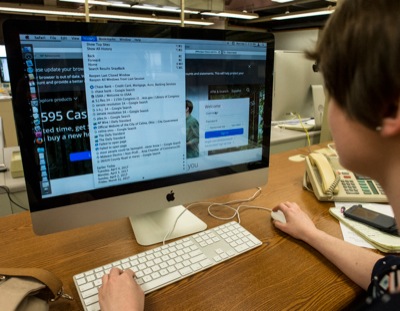 CELINA - Several local internet providers say they do not plan to sell customer information to third parties despite Congress' recent elimination of rules requiring customer consent to sell browsing and app use history to advertisers.
Nothing has immediately changed for Americans, as the Federal Communications Commission rules that were struck down wouldn't have gone into effect until at least Dec. 4, but Democrats and advocates are calling it a blow to privacy rights.
Hometown Cable Human Resource Manager Danielle Selhorst said her company does not collect customer information beyond what is required by law and has no interest in selling information to third parties.
"Furthermore we value our consumer privacy and will continue to protect that right," she added.
Marketing directors Jackie Muhlenkamp of Wabash Mutual Telephone Co. and Renee Arnold of NKTelco said their companies have no plans to sell customer information.
A release on the policy website of Charter Communications, which now owns Time Warner Cable, stated the company does not sell or share their customers' web browsing history. If that practice changes, customers would be notified and could choose whether their data could be used for marketing and advertising.
The Senate invoked the Congressional Review Act, which lets Congress eliminate regulations and prevent agencies from issuing similar ones in the future, which means that a future FCC can't reinstate the rules.
U.S. Rep. Jim Jordan, R-Urbana, wrote in an email that the vote actually restored the responsibility of privacy rights enforcement to the Federal Trade Commission, "which has successfully defended internet privacy all along."
"The vote overturned a last-minute change by the Obama administration that shifted control from the Federal Trade Commission to the Federal Communications Commission," Jordan wrote. "The shift from the FTC to the FCC created a potential privacy problem, and yesterday Congress acted to fix it."
Yet a debate continues about whether the FTC can effectively regulate internet service providers. In February 2015, the FCC moved to reclassify home and mobile internet providers as common carriers, naming the internet a public utility. Not only did the classification allow the FCC to impose net neutrality rules, it effectively stripped the FTC of authority over providers. The FTC's charter prohibits the agency from regulating common carriers. An appeals court ruling last year said AT&T was exempt from FTC jurisdiction thanks to its classification as a common carrier.
For the FTC to be able to enforce any privacy regulations, it would need to be allowed to regulate common carriers or ISPs would need to have their common carrier status changed, which would also jeopardize net neutrality rules.
ISP lobby groups like the Internet and Television Association have argued that privacy rules such as the ones stricken down prevented ISPs from competing in the online advertising market against giants such as Google and Facebook, and that Web browsing and app use history should not be classified as "sensitive" information.
Democrats and privacy advocates argue that ISPs have more power than Google or Facebook. If users aren't pleased with a website's policies, they can easily stop using it and find a different site. In its initial ruling, the FCC stated that while some customers can switch between ISPs, many in the country "do not have the benefit of robust competition, particularly in the fixed broadband market."
The votes largely followed party lines, with all 50 Republican senators voting for the resolution and the 48 Democrats voting against it. In the House, the vote went 215-205, with almost every Republican representative voting in favor and every Democratic representative against.
Rep. Warren Davidson, one of the few Republicans to oppose the resolution, said commission turf wars aside, he felt it was important to send a message that people's data was private.
"It's your data," said Davidson. "It's like my phone - the company may have sold me my phone, but all the information on here, the contacts and everything, that all belongs to me, not them."