Monday, April 10th, 2017
Titans reign supreme in St. Henry
Ottawa-Glandorf defeats Redskins in St. Henry Bank-WCSM Classic final
By Colin Foster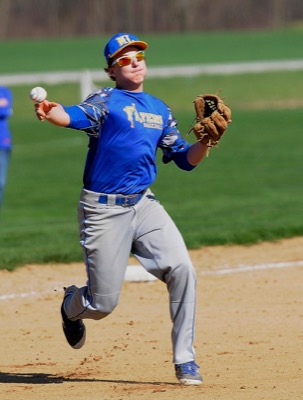 ST. HENRY - Pitching reigned supreme at the St. Henry Bank-WCSM Classic on Saturday.
So did the Ottawa-Glandorf Titans.
Ethan White scattered five hits over seven innings, his defense played lights out behind him and Ottawa-Glandorf manufactured just enough runs to get past St. Henry 3-1 in the tournament final at Wally Post Athletic Complex.
The Titans won the title in their first tournament appearance and the Redskins were denied their 14th all-time.
Ottawa-Glandorf defeated Marion Local 3-0 in the semifinal and St. Henry handed Russia its first loss of the season, 3-1, in eight innings in the other semi to set up the championship matchup.
The Raiders defeated the Flyers 1-0 in eight innings in the consolation game.

Ottawa-Glandorf 3, St. Henry 1 (championship game);
St. Henry 3, Russia 1 (8 innings) (semifinal)
St. Henry's 25-inning scoreless streak and three-game losing streak ended in the win over Russia.
But the Redskins, despite swinging the bats well, weren't able to get much offense going against the Titans.
Three times the Titan outfield made diving catches to prevent potential game-altering hits and they also had two double plays to help keep White's stat sheet looking good.
In the top of the second, Chase Schrieber had a single and B.J. Fortman followed with a double to put runners in scoring position. Logan Balbaugh's groundout plated Schrieber for a 1-0 lead. St. Henry starter Matt Siefring avoided further damage in the inning by picking off Fortman at third and then striking out Nate Arington.
The Redskins had two runners on with two outs in the bottom of the second, but Balbaugh made a diving catch on a deep shot to right by Siefring to keep St. Henry scoreless.
The Titans extended their lead to 3-0 in the fourth. After one-out singles by Austin Horstman and Schrieber, Fortman reached on an infield error to load the bases. Balbaugh and Arington had back to back groundouts to send two runs across.
Tyler Schlarman scored St. Henry's lone run in the fifth. He singled and went to second on a groundout by Siefring. Ottawa-Glandorf's catcher, Horstman, tried picking off Schlarman at second. The throw went into the outfield and he went to third. The throw to third got past the third baseman and Schlarman slid in safely at home.
White didn't allow the Redskins to mount many threats throughout the day, and when they did, the Titan defense made plays. Conner Bruggeman hit a double in the fourth, but was called out on a controversial call at third. Rylee Deitsch singled to open the sixth, but the next batter grounded into a double play. Sam Lefeld led the seventh with a single before White retired the next three hitters he faced.
White finished with one strikeout and two walks in the win.
Siefring went the distance for St. Henry, recording five strikeouts, no walks and allowing just one earned run. Schlarman and Sam Lefeld each had two hits.
"Pitching's been good for us all year," St. Henry coach John Dorner said. "But we had a couple key errors today and they got a couple unearned runs. That was the difference in the game. ... But it just feels like we're finally starting to rip the ball and then their outfielders make three diving catches during the game. I just told them not to press. It's starting to come. We've just got to be patient. We look at what we did last year and we look at what we did this summer. We know we can hit. I see lots of good signs that we're coming out of it."
Russia entered the day averaging 10.6 runs per game during its perfect 5-0 start to the season.
Then the Raiders met Parker Link.
Link, a junior right-hander, limited Russia to just three hits over eight innings as the Redskins advanced to the finals.
In the top of the eighth, St. Henry's Conner Bruggeman, who had hit an RBI single in the fifth, reached base safely with a walk and then stole second. With two outs, Siefring hit a routine fly ball to shallow right field that was dropped by the Russia fielder, allowing Bruggeman to score the go-ahead run. Schlarman followed with an RBI double.
Link allowed one run in the sixth on a Dion Puthoff RBI, but he had little issues completing his complete-game gem in the eighth. After hitting Trenton Monnin with a pitch, Link picked him off with a slick move to first base. He then ended the game with a strikeout and a 5-3 groundout.
"We had two complete-games today and no pitcher threw over 85 pitches," Dorner said. "They just chuck strikes. They hardly ever walk anybody. The other team has to bring the bats."
Link finished with four strikeouts, one walk and two hit batsmen. Ryan Luttmer finished 3-for-3 at the dish for St. Henry.
Russia 1, Marion Local 0 (8 innings) (consolation game)
Ottawa-Glandorf 3, Marion Local 0 (semifinal)
The Raiders defeated the Flyers 15-12 in a slugfest in Shelby County on Friday night.
Less than 24 hours later, Russia beat Marion 1-0 in a slug-less fest.
"It's about as close to a 180 degrees as you can possibly get in the game of baseball," Marion Local coach Casey Witt said. "I just talked to Russia's coach ... I'm more of a defensive guy. I enjoy 1-0 games far more than 15-12 slugfests. It was one of those games where you're on the edge of your seat every pitch and it's fun to coach in ballgames like that.
Russia's Dion Puthoff legged out an infield single in the bottom of the eighth and an infield error moments later allowed him to score the winning run to lock up a third-place finish for the Raiders.
"The leadoff hitter just hit a ball deep in the hole at short and legged out an infield single," Witt said. "He stole second and we made an error on a bunt. They manufactured a run and that's baseball. That's a tough way to lose a baseball game."
Tim Knapschaefer threw seven innings against Russia, allowing three hits while striking out six and walking none. Aaron Brunswick came on in relief and suffered the lone, albeit the run scored was unearned. Matt Kahlig had two hits for Marion in the loss and Ryan Thobe added a double.
The Flyers received a good performance on the hill from Jon Schmitz in Saturday's opener. Schmitz pitched a complete-game, allowing nine hits while striking out four and walking one. Only one of the three runs Ottawa-Glandorf scored was earned. Marion Local was limited to just two hits by the Titans' Owen Hiegel, who struck out eight in seven innings of work.
"Our pitchers shouldered a big load today," Witt said. "They went out and they threw strike one and got ahead of hitters and let our defense make plays. They didn't try to be too fine. They went out and competed."
Marion Local returns to St. Henry for the Midwest Athletic Conference opener on Tuesday.