Tuesday, April 11th, 2017
Cards keep winning
Fox pitches two-hitter as New Bremen improves to 6-1
By Gary R. Rasberry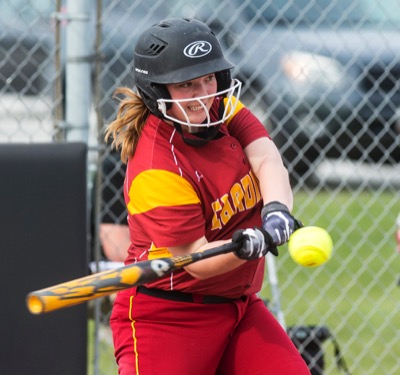 NEW BREMEN - The only factor that slowed down New Bremen on Monday was Mother Nature.
The Cardinals took advantage of five hit batsmen and Sophie Fox pitched a two-hit shutout in a 7-0 win over Lehman that was called with one out in the bottom of the sixth due to weather.
New Bremen (6-1) has won three straight after suffering a tough 26-1 loss to WBL powerhouse Wapakoneta last Monday. In the three wins, the Cardinals have outscored their foes 32-12.
"We spent our three days of rain practicing and re-focusing," New Bremen coach Craig Griesdorn said. "We're hitting the ball a lot better, so that's a good sign hopefully. We're a young group, but they're stepping up. We're getting better. That's all you can ask."
The Cardinals got out to a quick start with two runs in the bottom of the first. With one away, Marissa Topp reached first after having been hit by Lehman pitcher Hailey Wick. Fox stepped in and grounded to third, but the throw to get the force at second was off the mark, putting runners on first and third for Cassidy Smith, who was hit by a pitch to load the bases for Jenna Broerman. Broerman singled to left to score Topp and courtesy runner Madysson Ritter.
After a scoreless second, the Cardinals plated three more runs in the third. Ritter scored on a ground out by Broerman, and Cassidy Smith scored on a wild pitch. Molly Smith, who was hit by a pitch, stole second and then rounded third and came home when the throw to second was wild.
The final two runs came in the fourth when Hanna Tenkman singled to lead off and Abbi Thieman singled. Topp grounded into a 4-3 double play before Fox was hit by a pitch. Cassidy Smith grounded to third, but the throw ended up in the dugout, allowing both baserunners to come home.
"We were able to move runners and Jenna got a big two-out hit," Griesdorn said. "We were able to string some hits together and get people going."
That was more than enough offense for Fox, who allowed just two singles over six innings while striking out 12 Cavaliers.
"Sophie did a good job of making pitches and hitting her spots," Griesdorn said. "That's important to hit her spots. Marissa did a good job behind the plate."
Broerman finished with three RBIs for the Cardinals. Ritter scored three times as Fox's courtesy runner.
New Bremen gets into Midwest Athletic Conference play today as the Cardinals travel to Versailles for a battle between two of the three co-champs from 2016.
"League's going to be a bear. We know that," Griesdorn said.