Wednesday, April 12th, 2017
Holding on for victory
Celina rallies to beat Elida for first WBL softball win
By Gary R. Rasberry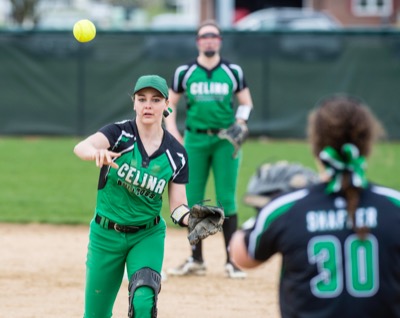 CELINA - Trailing Elida 5-3 going to the bottom of the fourth, Celina needed a boost.
The homestanding Bulldogs got that boost, scoring six in the fourth and adding four more runs over their last two at-bats.
Every run was needed as Elida tried to rally in the seventh before a double play gave Celina a 13-9 win for their first Western Buckeye League win of the season at Varsity Diamond/Jim Hoess Field.
Celina coach Nicole Driggs was happy to see the team rebound after having lost a 3-2 lead in the top of the fourth inning on Addie Miller's bases-loaded double.
"I'm happy because as coaches, we see what they can do in practices. We got to see it in a game," Driggs said. "Every inning we were putting runs on (the scoreboard) except for the second."
Kristin Dickerson led off the bottom of the fourth with a single and went to second on an error. After a bunt by Carly McNeilan moved up the runner, Bailey Laux and Brooke Steinbrunner reached on back-to-back bunts that the Elida defense chose not to try to throw out to keep Dickerson at third. The strategy paid off at first as Dickerson was forced out at home on a fielder's choice, but Maddy Luebke, who had homered earlier in the game, tripled to right to clear the bases and put Celina up 6-5. Mackenzie Shaffer followed by reaching on an error that allowed Luebke to score. Emily Keith followed with a two-run homer to make it 9-5 Celina.
"We were getting extra base hits tonight and we opened up the bunt game," Driggs said. "I was happy on our offense getting the job done."
Celina didn't rest on its laurels, scoring another run in the fifth on Maddie Kuehne's RBI single that scored Laux. In the bottom of the sixth, Celina plated three more, thanks to an RBI single by Keith and consecutive RBI groundouts by Sidney Pace and Laux.
All that remained was for Keith to get the final three outs to get the complete game win. Kori Baker led off with a pop-out to second for the first out, but Katelyn Sumption walked and after going to second on a wild pitch, scored on Lindsay Brocklehurst's single. Maddie Murphy followed with a walk and then Tieghan Horrison singled in Brocklehurst. With runners at first and third, Jordan Brocklehurst grounded to third. Instead of getting the out at first, the fielder threw the ball to third in an attempt to get the runner out, but the throw was wild, allowing Murphy to score to make it 13-8. Miller singled in Horrison to make it 13-9.
Driggs came out and called on Kuehne to try and close the door. Kuehne walked Lauren Kesler to load the bases for Kelsey Goodman, who grounded into a 5-2-3 double play to end the game.
"Elida continued to fight. There's some things we have to buckle down on on defense," Driggs said.
"We practice (the double play) with our catcher, but to execute in the game, it's rare to get that play."
Luebke was a double away from hitting for the cycle, going 3-for-4 with four RBIs. Keith added two hits and two RBIs. Laux was 3-for-4 with two runs scored.
Celina (3-4, 1-1 WBL) is back in WBL action on Thursday with a road trip to Bath.