Thursday, April 13th, 2017
Stocking turns St. Marys lake into temporary trout-fishing haven
By William Kincaid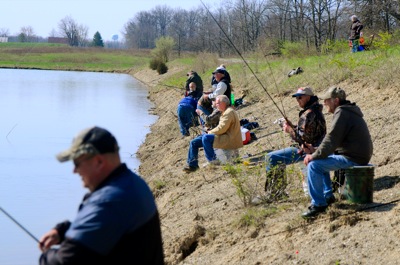 ST. MARYS - An excited group of anglers came bearing reels, rods and bait on Wednesday morning to Davis Lake, ready to be among the first to cast their lines into the water in hopes of snagging the coveted rainbow trout.
They were there before Lyle Brown of Castalia State Fish Hatchery arrived a little after 10 a.m. in a truck to deliver a fresh load of 532 rainbow trout.
This is the seventh consecutive year the Ohio Department of Natural Resources has unleashed the trout in the city-owned 13-acre lake located at Auglaize County Solid Waste and Recycling at 15202 St. Marys River Road to enhance fishing opportunities.
"Trout is something that's not native to Ohio," Brown said. "We do these inland lakes and reservoirs just to give people a chance to catch some trout."
Brown noted the trout are raised at the hatchery for a year before being released into bodies of water. They typically weigh one-half pound and measure 10-13 inches.
"(They're) fun to catch. Some people like the taste of them. I don't personally like the taste," Brown said, pointing out trout "are more fishy tasting" than any other species.
ODNR plans to release more than 100,000 rainbow trout in 64 Ohio public lakes and ponds this spring "to create excellent fishing opportunities for anglers" across the state, according to a news release.
"Fishing for catchable-sized trout is a great way to introduce young people to the outdoors," the release stated.
"Typically every Wednesday, Thursday, Friday, we got two to three trucks on the road, starting in the second or third week of March to the first week of May," Brown said, adding all stockings are listed publicly on ODNR's website so anglers often are there waiting for him when he arrives.
Fred Dorsten of St. Marys said he fishes at Davis Lake just when the trout are released. He was using a worm and green, black and white-colored jigs. Dorsten fishes for fun, not for food.
Kevin Hoel, also of St. Marys, plans to hit up the lake for at least two to three days. He said the trout will probably bite well for at least three weeks before the "water starts getting warmer."
Trout are cold-water fish that do not typically survive the summer in Ohio waters.
"I like catching them and eating them. It's an acquired taste. It's different," Hoel said.
Trout are enjoyable to catch as "they put up a real good fight, almost like a bluegill," Hoel added.
Davis Lake is open for fishing during daylight hours. Anglers must have a valid fishing license, and fishing is allowed only from the shoreline. The daily catch limit is five rainbow trout.
According to ODNR, its fish hatchery operations are funded by fishing licenses and the federal Sport Fish Restoration program.
"No state dollars are used for this activity. This is a user-pay, user-benefit program," the releases states.