Saturday, April 15th, 2017
Women stitch up quilts, friendships
Area group shares hobby, charitable work
By Georgia Rindler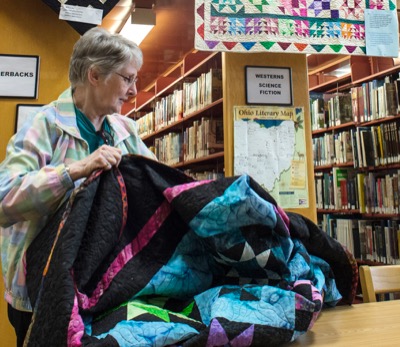 COLDWATER - A group of local women has been piecing together quilts and friendships for more than a decade.
Friendship Quilters members do more than make their works of practical art, charter member Marilyn Stall of Coldwater said.
The idea was born in 2003 when Betty Heckler of Coldwater saw an interest in the fall festival quilt show at the Mercer County Fairgrounds. She initially considered a quilting bee but discovered the women wanted to gather and work together. Kari Isaacs, Pat Naveau, Sylvia Stammen, Julie Baltes, Mary Honigford, Stall and Heckler started the club. Members named the group Friendship Quilters partially because friendship star is the name of a quilting block.
The group now has 20 members from Mercer and Auglaize counties, ranging in age from 10 to 80. Six original members remain. While the group has no president, a treasurer handles the finances - dues are $12 per year.
The group is "more of a social club, focusing on charity and education," Stammen said.
Naveau said she picked up quilting when she came across a PBS television show and treated it as a class.
Stammen started when her children were young and then put it aside for almost 10 years, saying "life got in the way."
Every summer, members take a weekend retreat at the Spiritual Center of Maria Stein. Attendees take their projects and enjoy a weekend of uninterrupted sewing, Naveau said. No phone calls, cooking or cleaning duties distract them.
When asked why they quilt, members answered along a similar thread - relaxation, creativity and the satisfaction of making something practical.
Isaacs extolled the tactile - the feel of the fabric, the sensory experience.
Naveau looked for the excitement - the "wow factor" of a finished quilt.
"We would rather give our projects to family and friends than sell them," Stammen said. "You have a lot of yourself in each piece."
Buyers cannot appreciate the hours of work put into the projects, Naveau said.
Both women give quilts as gifts for occasions such as graduation or the birth of a child.
Elaine Rosenbeck said her adult children anticipate the handmade gifts she creates for Christmas.
Club members also become surrogate family members. When member Dorothy Schaefer was killed in an auto accident, the group finished her projects and gave them to her family. They did the same for member Sharon Duerr after her death.
At first, they partnered a more experienced quilter with a novice, Stall said. They usually have some sort of demonstration at each meeting. Some months, they invite a speaker and other guilds' members.
Together, they attend workshops and go on road trips to quilt shops and keep busy with charitable work along with their individual projects. The club's first charitable work was helping Project Linus, a nationwide organization that gives blankets to children in crisis, Isaacs said.
They have supported a wide range of local charities, Stammen added. They've donated raffle quilts for Choosing Life Pregnancy and Resource Center, Boy Scout Troop 96 of Coldwater, Operation Freedom Support and the Cancer Association of Mercer County. Quilts also have been given to Mercer County Help Me Grow program families.
Seven years ago, they made quilts for the first boy and girl born at Mercer County Community Hospital in Coldwater on national quilt day. They also have sewn and stuffed dolls for children in crisis at Sycamore Hospital in Miamisburg. Every other year they host a fundraiser to support club projects.
The group has displayed items at Mercer County Historical Museum, Maria Stein Shrine of the Holy Relics and Arts Place Inc. in Portland, Indiana. They also exhibited at Coldwater's 175th anniversary celebration and for several years at the Community Picnic. Every spring they have a display at the Coldwater library. Stall displayed at Artistry Under the Dome at the St. Charles Senior Living Center this year.
Ideas come from magazines, quilting books, Pinterest and even photos. A photo of the Grand Canyon inspired one by Isaacs.
Traditional quilts are built on patterns and blocks, Stall said. She is working on one that depicts the colors and feel of the sunset in Naples, Florida.
The process begins with the selection of fabric and maybe a pattern. Squares need to be cut for a block quilt.
"Patterns are made by humans, so there can be mistakes," Isaacs said.
Cut pieces are put into place like puzzle pieces, giving the quilter a vision of the finished piece. Pieces are then sewn together mainly along straight lines, Stammen said.
"Pressing is the No. 1 thing to do," Rosenbeck stressed. Once the batting and back are added, the piece is ready to be quilted. Backing can come in one large piece or several pieces.
"Piece backing is fun," Isaacs commented. "It doesn't have to all match."
Stammen and Heckler still love to quilt by hand while other use sewing machines.
"There's no right or wrong way to do things," Rosenbeck added.
The work can span several hours to several decades. The project's complexity or a quilter's lack of skill can end a project. All members have "UFOs" - unfinished objects - lying around, Isaacs said. This is where the group can come to the rescue with tips and inspiration.
Like most hobbies and interests, quilting can be costly. Naveau said a starter kit including a rotary cutter, ruler and mat costs about $40. A multitude of other gadgets and tools are available. She concedes some quilters have more accessories than others.
The group is accepting new members. Meetings are held from 7-9 p.m. the second Thursday of each month in the basement of Holy Trinity Catholic Church. Those interested can contact Stall at 419-678-1174 or Rosenbeck at 419-678-2958.