Monday, April 17th, 2017
Long-distance mission
Homan, daughters see nation a half-marathon at a time
By William Kincaid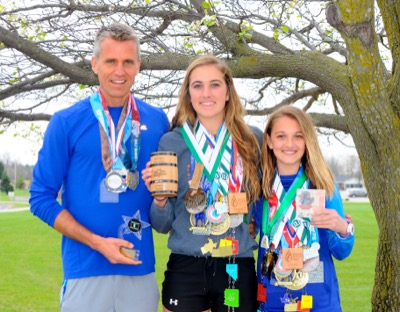 COLDWATER - He puts up with their "awful" music in the car while they respond to his demands to hurry up packing - a father and two of his daughters are learning more about each other while seeing America.
Greg Homan of Coldwater, a Mercer County commissioner and Wright State University-Lake Campus agricultural professor, and daughters Colby, a high school sophomore, and Shelby, a sixth-grader, in November began a quest to run half-marathons in 50 states.
So far, they've each run more than 300 miles while competing in courses in Arizona, Nevada, California, North Carolina, Tennessee, South Carolina, Georgia, Indiana, Ohio, Michigan, Alabama, Florida, Pennsylvania, Texas, Oklahoma, Kansas, Colorado, New Mexico, Kentucky, Maryland and Delaware.
They hope to visit the rest of the states - including Alaska and Hawaii - by the summer of 2018.
"Shelby and my dad did two of them (half-marathons) for fun and then they asked me to join them, and I did one and I liked it," Colby Homan, who also runs on the Coldwater High School track and cross country teams, said about the trio's goal of running in all states.
Her father, she said, found out about people running in all 50 states. He set out with two of his four daughters to do the same, traveling by plane and automobile and staying in hotels, "not all of them ... four- or five-star hotels," the father said.
They began mapping their itinerary by following Mainly Marathon, an organization that hosts marathons across the country, as well as doing their own independent scheduling of races, trying to select events that are near those in neighboring states.
Most races are held on the weekends so the girls haven't missed much school. But it's always a tight schedule, with the girls making it back once at 2:30 a.m. Monday but nevertheless making it to school that morning.
One trip found them visiting Kansas, Colorado, New Mexico, Oklahoma and Texas.
"We had five marathons in a row, five days in a row," Colby Homan said. "That third day we were feeling pretty sluggish."
They run at different paces, with the elder daughter sometimes competing against her father.
"I've beat him in like a few of them but usually he's up there," Colby Homan said. "Usually I'm in the middle and Shelby's back behind a little bit."
Shelby Homan said she's usually the youngest person in the race.
She said the first few miles of a half-marathon are the hardest.
"Whenever you hit (mile) 3, you're like, 'I still have 10 left,' " she said.
Her sister agreed, pointing out she's unmotivated for the first 5 miles.
"Usually when I hit (mile) 8 is when I go flying. The last 5 miles I'm pushing it in gear," she said.
The girls appear to have natural ability at long-distance running.
"I don't think either one of them are really fast, sprinter types," Greg Homan noted. "I think they just have the ability to run really long distance."
Greg Homan recalled one day a few years ago giving Shelby Homan a GPS watch to log her miles.
She returned after running 9 miles.
"I remember thinking, 'Did somebody give you a ride?' " Greg Homan said. "I thought there was no way that she actually really did this. 'Did somebody give you a ride?' But she had just went out for a run and she put a whole lot of miles on it."
The challenge isn't about just the running, Greg Homan said.
"Hopefully it will translate into other things later in life, that they can set hard goals and show discipline," he said.
"Both of the girls here, you see different personality styles in your children, and they both are really driven, really goal-oriented. I even noticed when they were (little) kids, they set schedules," he said. When Shelby had friends over, she "mapped out by minute what they were going to be doing."
From running in the miserable cold on an off-course trail in Indiana to enjoying a pleasant trek through the mountains of Arizona, the three Homans have made it through different conditions and courses.
They've encountered many kinds of people, too.
"When we did a race in Alabama, both of the girls were like 'We ought to move here' because there's that southern hospitality," Homan said.
Along the way, they've also set aside time to visit sights and destinations such as the Wizard of Oz Museum, a former WWII Japanese Internment Camp and numerous state and national parks.
All the while, Greg Homan's wife, Lori, holds down the home fort with the couple's other five children.
Asked if the other children are envious of the trio's adventurers, Homan said "We tell them them if they start running they can join."