Wednesday, April 19th, 2017
Panthers shut down Cavs
Coldwater held scoreless for first time in 2017 season
By Gary R. Rasberry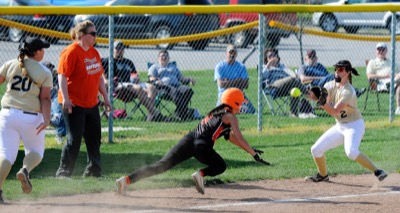 ROCKFORD - Both Parkway and Coldwater are known for their ability to put up runs on the softball scoreboard.
So it wouldn't have been much of a surprise if Tuesday's MAC game in Rockford would have been an offensive slugfest.
As it turned out, Parkway took some time to put up the runs while Coldwater suffered a power outage in the Panthers' 9-0 win over the Cavaliers. The win moves the state-ranked Panthers to 9-1 and 2-0 in the MAC. Coldwater drops to 10-4 and 1-1 in the MAC.
"It wasn't the game I was expecting at all," Parkway coach Mark Esselstein said. "Coldwater has been scoring a lot of runs. We've been swinging the bat really well. We didn't square up on the ball until the end of the game."
The Panthers went hitless for the first three innings of the game before Haley Hawk singled to start the fourth. Parkway managed to hold a 1-0 lead as Cavaliers pitcher Maddie Steinke walked three batters and uncorked a wild pitch to score Macy Henkle from third. The Cavaliers avoided further damage with a line-out double play and later in the third had another line-out double play to get out of another jam.
Coldwater, on the other hand, was able to get hits from the get-go as Carly Post led off with a double and later went to third. The Panthers' defense shined as Post was caught too far off third and was tagged out by third baseman Bailey Strickler for the first of two occasions. The Cavaliers managed seven hits in the game but left seven runners on base, including four in scoring position.
"Haley pitched a heckuva game and our defense made some big momentum plays," Esselstein said. "We had nailed two runners on rundowns between third and home. Alyssa (Miller) threw (a runner) out at third (from right field) on a first-to-third play and we got a pickoff (at first). That's four outs you usually don't expect to get."
"When we have people on base, we have to find a way to get them in," Coldwater coach Katie Berno said. "We had people in scoring position in the first three innings and couldn't get them in. We did the things we needed to do to get on base."
Once the Panthers got their first base hit, the runs began to trickle out. Parkway scored three in the bottom of the third and two in the fifth, and then capped off the game with three in the sixth, two coming on a single by Alyx Slusher. Hawk nearly triggered the run-rule one batter later with a deep shot to right that Coldwater's Olivia Harlamert reeled in at the fence.
"Being patient at the plate and we managed to put a couple of balls in the sun field (right field, where fielders needed sunglasses to battle the sun) to give us some breathing room," Esselstein said. "It really wasn't until the last inning where we started to hit the ball on the nose."
"That wasn't our best performance," Berno said. "It has to be a learning experience. You win some, you lose some. We just have to learn from this experience."
All seven Parkway hits were singles and no Panther had more than one hit.
Danielle Welsch went 2-for-3 for Coldwater and Post had the lone extra base hit with her leadoff double.
Parkway returns to action on Thursday as the Panthers host Marion Local in MAC play. Coldwater is off until Saturday when the Cavaliers host Bath for a noon doubleheader.