Wednesday, April 26th, 2017
County walking program takes off
By William Kincaid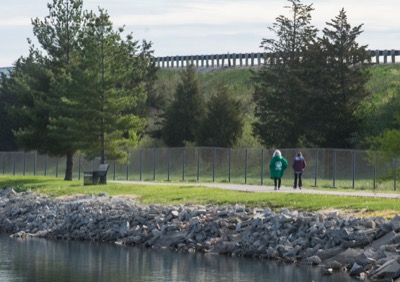 CELINA - More than 20 people of varying ages put on their running shoes and worked up a sweat while participating in the first day of "Walk the County" on Tuesday morning at Celina's Eastview Park.
From 9-10 a.m. every Tuesday and Thursday through the end of October, citizens will have the opportunity to walk together through numerous city and county public areas in a bid to encourage exercise and fellowship. The program also was created to help showcase the area's public amenities into which local governments have poured thousands of dollars over the last few years.
"Walk the County" is the brainchild of officials from Celina Manor, Mercer County Fair Board, Mercer County Council on Aging and Celina Parks and Recreation Department.
"We've been meeting for the last couple of months to set this up," city parks and recreation director Darl Strable said, noting the initiative aims to get people out of their homes to use public areas.
For the first day, door prizes were awarded to stir up excitement among the walkers. Water and yogurt will be supplied at future walks, Strable said.
"We're just trying to get this thing going and building it up," he said.
Celina Mayor Jeff Hazel addressed the walkers on Tuesday.
"That's a really good thing that Darl kicked into gear," Hazel told the newspaper this morning. "It gives people the opportunity to really enjoy the parks and the exercise, so it wasn't just seniors."
Walkers enjoyed the recently upgraded Eastview Park. Last summer, city crews completed a walking path around the pond, expanded the parking and erected numerous shelter houses.
Also last summer, 30 loads of sand were dumped onto the park's beach.
All the work was paid for with $1.43 million earmarked to Celina in the 2014 state budget to develop three softball fields at Westview Park, complete the boardwalk and improve Eastview Park.
Hazel said he hopes "Walk the County" draws people away from their smart phones and electronic devices and out to the public grounds for a few hours each week. The event also is a good way to get people buzzing about the upcoming summer season, with the city's concerts in the park and area festivals just on the horizon, he added.
"It's just one of the programs we're trying to implement," he said.
"Walk the County" will be held from 9-10 a.m. Tuesday and Thursday in May at Eastview Park, the Mercer County Fairgrounds in June, Lakeshore Park in July, Eastview Park in August, Mercer County Fairgrounds in September and the Coldwater-Celina bike path in October.