Thursday, April 27th, 2017
Lakers split with Devils
By Colin Foster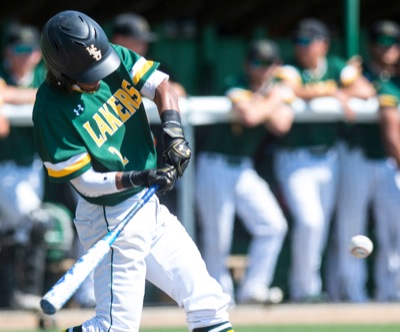 CELINA - Wright State-Lake went down swinging in the first game.
Then the Lakers came out swinging in the late game to salvage a doubleheader split with Lawrence Technological University on Wednesday at Montgomery Field.
The Lakers nearly rallied from a five-run deficit late in the opener before stranding the tying runner at second base in the seventh in a 6-5 loss. They faced a three-run hole after one inning in the finale, but then erupted for seven runs on six hits in the second and rolled to a 9-5 victory.
WSU-Lake -ranked second in the latest United States Collegiate Athletic Association Coaches Poll - improved to 20-14 on the season with the postseason on the horizon. In Wednesday's opener, the Blue Devils took a 6-1 lead with a five-run fifth inning. WSU-Lake scored three runs in the sixth on singles by Quintin Cantelli and Ronaldo Acosta, but ultimately fell just short of completing the rally in the seventh.
A walk to Tristan Becker and a single by Isaac Fitzgerald put Lake runners on the corners with no outs in the seventh frame. Becker scored on an errant pickoff throw to first base. The Lakers had the tying runner on second and go-ahead runner on first when relief pitcher David Klug recorded a strikeout to end the game.
Chris Burgess earned the win for Lawrence Tech in six innings of work and Klug secured the save.
Casey Grimm suffered the loss for WSU-Lake, giving up four runs and six hits in six innings while striking out one and walking one. Fitzgerald finished Game 1 with two hits and Becker added an RBI single in the first.
Fitzgerald and Becker, both St. Marys graduates, led the offensive charge for the Lakers in Game 2.
The Blue Devils took a 3-0 lead in the first behind a two-run double by Michael Rinke and a fielder's choice ground out by Joseph Russo.
The Lakers scored seven runs with two outs in the bottom of the second. Three singles by Quintin Cantelli, Jared Knous and Acosta loaded the bases. Connor Burr walked to bring home the first run and then Becker hit a bases-clearing triple. Fitzgerald followed with an RBI double down the left-field line and later scored on a wild pitch.
"We made an adjustment," WSU-Lake coach Chad Geier said. "In Game 1, we kind of struggled. We were out in front a little bit. The wind was blowing from left to right. There were a lot of doubles hit in the right-center gap and down the right-field line. We were trying pull it a little too much and it kind of got us into trouble.
"In Game 2, we made some positives out of a couple of their mistakes. We sat deep, saw the ball late and drove it to the right side. A lot of guys who have been struggling we saw some good things out of them in Game 2."
An inning later, Becker delivered again, hitting a two-run double with two outs to increase the lead to 9-3. He finished the game 2-for-2 with five RBIs.
"Becker has been the guy all year that if he goes, we go," Geier said. "He's at the top of our team in batting average, runs scored, dang near most categories. He knocked in a lot of RBIs today. He had a great day. Fitzgerald hitting behind him, he's starting to see the ball a lot better. He's one of the guys we need to get going again because he had a rough couple of weeks. Those two guys back-to-back when they're both hitting the ball well is a really good combo for us."
WSU-Lake starter Carson Schuman rebounded after the tough first inning to post three consecutive scoreless innings. He earned the victory in four innings of work, allowing two earned runs and five hits while striking out three and walking one.
Billy Lanman allowed two runs in two innings and Celina grad Riley Luebke threw a scoreless seventh on 14 pitches.
Tyler Venters finished 2-for-3 with an RBI and two runs scored for WSU-Lake in Game 2. Chandler Caine and Ronald Acosta added two hits apiece.
The Lakers will host Robert Morris-Springfield in a four-game set this weekend. Saturday's doubleheader begins at 4:30 p.m. and Sunday's kicks off at noon.
"They're a team that just took two from (University of Cincinnati-Clermont), which jumped us in the rankings this past week," Geier said. "We're going to relish the opportunity and play those four games as if those are world series games. We've got to try to get them. Those four games could really help us out in the coaches poll going into New York."