Saturday, April 29th, 2017
Jay's gem helps St. Marys top Celina
By Colin Foster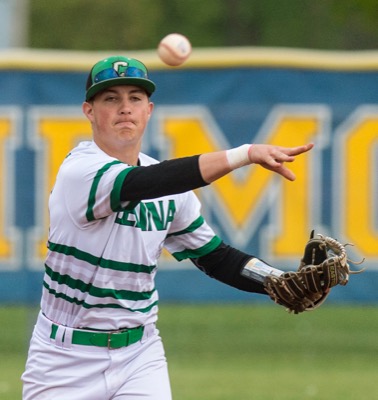 ST. MARYS - Celina has made a lot of noise with its bats this season.
On Friday, the Bulldogs were quieted by St. Marys ace Derek Jay.
Jay tossed a complete-game, two-hit shutout as St. Marys handed Celina its third straight loss by a score of 4-0 in the Battle of Grand Lake at K.C. Geiger Park.
"He kept the ball down, especially early on," Celina coach Andy Mikesell said. "The umpire we had was giving us the low strike and he was putting it right there with his fastball and curveball."
The Roughriders won for the sixth consecutive time in the series and posted their fourth straight shutout against Celina. They improved to 6-11 overall and 3-5 in Western Buckeye League play.
"I kind of felt like our guys would show up," St. Marys coach Jeff Dieringer said. "We feel like we're better than what we've shown to this point. The guys played hard. I thought they were intense from the moment they came. I thought their bats were pretty good. They always feel like they've got something to prove and it always seems like they want to play Celina. They get fired up for them. Andy's got a really good team. There's a good chance we'll see them again down the road and we'll have our hands full then, too."
Jay needed eight or fewer pitches to get out of innings four times. The senior right-hander struck out two, walked one and threw 44 of his 68 pitches for strikes as he became the first pitcher to hold Celina scoreless this season.
The Bulldogs left a runner stranded in scoring position in the second and fourth innings. Jay went to a three-ball count just three times on the night and didn't issue his only walk until the seventh. From there, he forced three consecutive pop outs to end the game.
"He was around the zone all night," Dieringer said. "Velocity-wise, I didn't think he had his best stuff. But being around the zone, you don't really have to throw your hardest. I thought he pitched really well tonight."
The Roughriders scored four unearned runs against Celina's Reid Harter during his 4 2/3 innings of work. Austin Wilker was the first man aboard for St. Marys in the opening inning, reaching on an infield error. Mitchell Pendleton and Austin Cook followed with back-to-back singles to load the bases. A soft chopper to third by Will Spencer allowed Wilker to score. Celina shortstop Kole Murlin made a leaping catch on a line drive by Chandler Gray to prevent any further damage in the frame.
Harter retired nine straight batters from the end of the first to the beginning of the fourth, but he encountered trouble in the fourth after hitting Evan Vogel with a pitch and then walking Drew Jacobs. With two runners aboard, Wilker hit a grounder in-between first and second. It was fielded by the Celina first baseman and thrown past the second baseman. Jacobs headed for third and the Celina left fielder threw the ball over the head of third baseman Tanner Freeman. Vogel and Jacobs scored on the play and then Pendleton followed with an RBI single to make the score 4-0.
"We didn't have energy and that's the frustrating part," Mikesell said. "You're playing St. Marys, it doesn't get much bigger than that from an energy standpoint. That was one of the more disappointing things is the fact that they weren't up for the game, but that's kind of on me to get them ready to play."
Pendleton had two of St. Marys' four hits in the win.
Harter allowed three hits while striking out two and walking one. Freeman and Shawn Rose had the lone Celina hits.
Celina - ranked 15th in the latest Ohio High School Baseball Coaches Association Poll - fell to 14-5 and 5-2 in WBL play.
"Every year when we have success, we seem to hit a wall," Mikesell said. "I apologized to them because that's kind of on me, you know, not making an adjustment and not helping them understand how to take success. You start off good and then all of a sudden it's like 'We're not bad. We're actually pretty good.' Then you start getting lazy and skipping out on the little details. My biggest message to them was don't quit on me. Our chances might be slim in the WBL, but we still have a shot at it. We still have tournament, too, and you guys are way too talented to pack it in now."