Monday, May 1st, 2017
Crappies bite despite bad weather
By Tom Stankard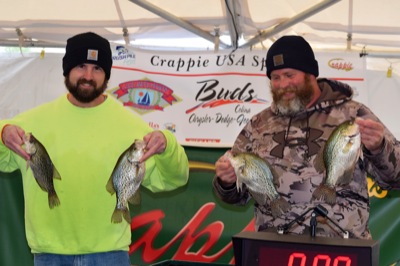 CELINA - More than 60 anglers from across the Midwest and beyond competed in the Crappie USA Tournament over the weekend despite inclement weather.
Throughout the tournament Friday and Saturday, chilly weather, wind and rain reportedly made fishing difficult, but amateur and semi-professional anglers still managed to reel in crappies.
Teams of two ventured out into the channels of Grand Lake in search of the fish.
Attempting to start their motor late Saturday morning at Windy Point State Park, amateurs Carl Pugh Jr., Celina, and Mike Derrow, Van Wert, agreed fishing conditions on Friday were better than Saturday's pouring rain and cold temperatures.
Farther along a creek in Montezuma, the amateur team of Roy Dagley, Englewood, and Brad Bailey, Union, were trying to stay dry. Both were having fun, they said, despite difficulties in getting the crappies to bite.
Brush Pile Fishing representative and tournament host Russ Bailey took a boat out Saturday afternoon to scout the competitors.
"It's a good turnout," he said. "We saw several teams, and they were all soaking wet."
Rain doesn't have as much of an impact as colder weather and wind, Bailey said.
"What can hurt crappie fishing, especially on a shallow lake, is if you have a severe cold front come," he said. "The water temperature where I was at was 58 degrees. You're still gonna get some nice fish, but the number of bites were down."
Sixty-five teams from the area as well as Michigan, Indiana, Kentucky, Illinois and Virginia competed for $10,000 in prizes. With that much money on the line, Bailey said fisherman will "tough out that weather."
Teams submitted their seven biggest fish to be weighed in front of a large crowd at Lakeshore Park in Celina. The total weight determined the winners.
In the end, Doug and Jim Freeman, both of Celina, won the pro division. In second place was Troy Zimmermann and Jeff Toben, both of St. Marys. Third place went to the father-and-son team of Zach and Mike Fishbaugh, St. Henry.
The winners of the amateur division were Mike Shroyer, Greenville, and Mark Puthoff, Coldwater. The team of Kerry August and Brian Bollenbacher, both of Celina, landed in second place, and Bailey and Dagley took home third place.
Children also were able to fish in the kids rodeo. Sophia Johnson, New Bremen, won the event. NK Telco Marketing Director Renee Arnold told the newspaper only eight children competed this year because of the wet conditions.
This is the second consecutive year the tournament was held on Grand Lake. Arnold said she was happy to have the tournament return.