Tuesday, May 2nd, 2017
Clean sweep for Dogs
Celina wins 5-0 over St. Marys to finish 8-1 in WBL
By Gary R. Rasberry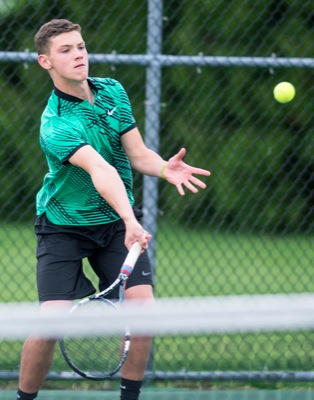 CELINA - Both Celina and St. Marys were looking to lock up second place in the Western Buckeye League regular season standings when the cross-lake rivals met at Celina's Booster Club Tennis Complex on Monday afternoon.
The Bulldogs, having most of last week off with just one match, looked rested in beating the Roughriders with a 5-0 sweep of matches to finish league play at 8-1. The Roughriders end up 7-2, good for third place.
"I was impressed how they came out to play tonight," Celina coach Toma Hainline said. "I was a little worried because we only played Wapakoneta last week. I tried to get a couple matches towards the end of the week. The matches fell through, but we had good practices last Wednesday and Thursday and with rain on Friday, we were off. That might have rejuvenated the guys a lot. They came out with a lot of energy today."
The rest certainly helped as Celina won all its matches in two sets, with St. Marys managing to win more than two games in just one set.
Celina second singles player Heath Laux finished league play 9-0, likely earning him the top seed at the league tournament later this week, with a 6-1, 6-1 win over Jacob Grannan.
In first singles, Garrett Weininger won in matching 6-2, 6-2 sets over Cam Dingledine, while in third singles, Drew Rosengarten completed the Bulldog sweep with a 6-1, 6-0 win over Josh Wingett.
The most challenging set for Celina came in first doubles as Bulldogs Bryce Langenkamp and Kyle Lochtefeld received a stiff challenge from CJ Vanderhorst and Andrew Vogel before the Celina duo won the first set 6-4. After that, Langenkamp and Lochtefeld cruised to a 6-0 win the second set.
Celina's second doubles team of Sohaib Saleem and Garrett Forlow had little trouble in beating the St. Marys tandem of Evan Tennant and Mason King, winning 6-0, 6-1.
"I think our mentality coming to the court was upbeat and positive at every position. That's a good mindset to be in come Thursday (when the league tournament starts at the University of Northwestern Ohio in Lima)."
St. Marys coach Seth Hertenstein could only praise Celina for their effort.
"I expected (Celina) to give us a hard time, but I didn't expect to get our butt kicked like we did," Hertenstein said. "I expected to hang in there a bit, but (Celina) showed us what good tennis looks like."
In exhibition matches, Celina picked up singles wins from Colin Harris, Justin Warnament and Brandon Schmidlapp and a doubles win from Toby Drexler and Grant Guggenbiller.
Celina hosts Ada today.
Tournament Draw: Both Celina and St. Marys will mix up their lineups when the Division II sectional tournament gets underway May 11 at the Racer Courts on the campus of UNOH.
Weininger and Laux will team up in doubles after earning the second seed in the tournament. The other Celina team will be Rosengarten and Lochtefeld.
St. Marys will be represented in doubles by Grannan and Wingett and Tennant and Michael Dietz.
In the singles draw, neither Celina nor St. Marys received a top four seed. Langengkamp, Saleem and Forlow will compete for the Bulldogs while St. Marys will be represented by Dingledine, Vanderhorst and Howie Spencer.
The tournament conlcudes May 13 with the top four singles players and four doubles teams advancing to district.