Wednesday, May 3rd, 2017
Speelman tops Moore in judge's race
By William Kincaid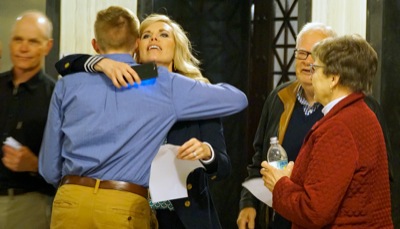 CELINA - Local attorney Kathryn Speelman on Tuesday scored a convincing victory over rival Celina Law Director George Moore in the Republican primary for Celina Municipal Court judge, garnering almost 75 percent of the total vote.
Speelman took in 3,246 votes or 74.62 percent to Moore's 1,104 or 25.38 percent, according to unofficial final results. She now advances to the November general election, when she will stand unopposed unless a challenge arises from a write-in candidate. Write-in candidates must file to run by 4 p.m. Aug. 28.
Surrounded by a bevy of supporters on Tuesday night at the Mercer County Courthouse, Speelman, 46, was all smiles when the final results were posted just before 9 p.m.
"It's been a long hard road and I want to thank everybody who's helped me along the way," she told the newspaper. "I couldn't have done this without my family and friends and campaign committee. They helped me tremendously."
Speelman also expressed gratitude to all those who allowed her to place a campaign sign in their yards.
"The citizens of Mercer County, thank you for putting your trust in me and giving me your vote," she said. "It's truly appreciated."
Speelman acknowledged her opponent, saying Moore put a lot of work and time into his campaign.
Asked for a comment on the race, Moore thanked his family, friends and supporters "for their never-ending support" throughout the campaign.
"While this is not the result I was hoping for, I will forever cherish the many friendships that I made, and I look forward to working with Speelman in the future," he said.
As city law director, Moore also serves as prosecuting attorney in municipal court. Moore, whose term extends through the end of 2019, will argue cases in front of Speelman if she wins the general election and takes over next year for longtime judge James Scheer. Scheer, a Democrat, chose not to seek another six-year term.
In the meantime, Speelman plans to undergo judicial training and to continue to serve as acting judge in municipal court until the end of the year.
Speelman, who resides with her family in Maria Stein, has worked as an attorney for more than two decades, both as a defense attorney and at a prosecutor's office.
Asked about her judicial philosophy and temperament, Speelman had said she holds very traditional, conservative beliefs. She had said she believes the role of judge is both to sentence lawbreakers and help steer offenders toward a path of correction. But disposition ultimately depends on the person standing in front of the judge.
Also on Tuesday, candidates for Celina City Council all moved ahead to the general election after facing no opposition.
City council's four ward positions and the president position all are up for election in November. Incumbent council president Jason King, ward 1 councilman Myron Buxton and ward 4 councilman Eric Clausen - all Republicans - advanced to the general election, as did Republican Eric Baltzell, who is eying the open ward 2 seat.
Current ward 2 councilman Fred LeJeune, a Republican, earlier this year indicated he would not seek a second four-year term on council.
Voter turnout for the Mercer County Republican primary election was 15.18 percent.