Thursday, May 4th, 2017
Deitsch delivers
Sophomore hits game-winner as St. Henry tops Parkway
By Colin Foster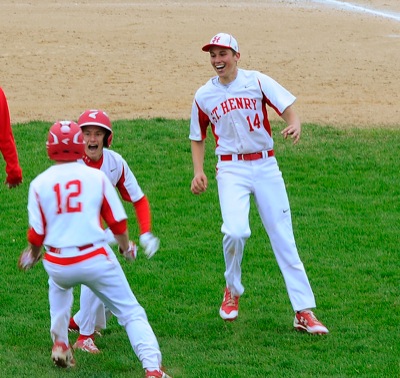 ST. HENRY - Rylee Deitsch had a game-winning hit against Marion Local earlier this season.
Deitsch delivered again on Wednesday.
The St. Henry sophomore came through with a two-out RBI single in the bottom of the 10th inning to score Ryan Luttmer, lifting the Redskins to a 3-2 victory over visiting Parkway on Senior Night at Wally Post Athletic Complex.
"I felt confident," Deitsch said. "I just wanted to get the win for our seniors. They've worked hard all year. We're hoping we can put it together for the tournament."
It was the sixth time this season the Redskins (11-12, 4-4 MAC) went to extra innings on their home field. They improved to 4-2 in those games.
Luttmer hit a one-out single in the 10th and then stole second. Parker Link was intentionally walked by Parkway coach Luke Clouse to bring up Deitsch, who entered the at bat 1-for-4 against Parkway's Clayton Agler, with a line-out right back at Agler in the eighth. Deitsch hit a line drive up the middle on the first pitch and Luttmer beat the throw home from second.
"He throws basically all first-pitch strikes," Deitsch said. "So I came out ready to swing on the first pitch."
"I guess there's always second guessing yourself," Clouse said of the intentional walk. "But I think that was the smart play at the time. He came up and got a big hit, and that's what we've been lacking."
"I made eye contact with our first base coach Mike Gast and I think we knew that we got the better end of the deal (after the intentional walk) because Rylee's one of the hottest hitters we have right now," said St. Henry assistant coach Josh Link, who filled in as head skipper in John Dorner's absence. "He doesn't make too many soft outs. He makes a lot of loud outs. To give him a chance to knock one in, it just worked out in our favor."
Agler pitched 9 2/3 innings for the Panthers. He threw 119 pitches (74 for strikes), allowing nine hits while striking out six and walking four.
"He does a good job of throwing strikes," Clouse said. "You go up there and you don't get deep into counts a whole lot of times, you stay on the plate and then some guy goes in there and pops it up and we get the out. That makes for short innings and keeps your pitch count well."
Parker Link was getting it done on the mound for St. Henry as well. Link threw 110 pitches (71 for strikes) over nine innings, allowing seven hits while striking out two and walking two. Nate Lefeld got out of a bases-loaded jam in the 10th to keep the Panthers scoreless and earn the victory.
"Parker made his way up above 100 pitches and we decided that was enough," coach Link said. "Then Nate came in and did what Nate has done all year in relief. Thankfully, he was able to get a win out of that."
St. Henry got on the scoreboard first in the bottom of the fourth. Lefeld and Matt Siefring had back-to-back one-out singles, putting runners on the corners. After Siefring took a free pass to second, Tyler Schlarman hit a soft grounder to Parkway shortstop Breyden Bruns, who looked Lefeld back to third and threw to first. Lefeld bolted for home and the throw to the plate got by catcher Shay Pond, allowing Siefring to score, too.
Agler helped his own cause in the fifth with an RBI single to score Pond after he had doubled. An inning later, Logan Huff hit a double down the right-field line. Alec Schoenleben tied the game at 2-all with an RBI single.
But those were the rare occasions when the Panthers capitalized with runners on. They stranded 12 runners in the loss - six of them during the extra frames.
"It just comes down to getting the job done," Clouse said. "That's been a struggle for us this week. We've won some good games and we've lost some tough ones. But we've just got to hit the ball. That's what it comes down to."
Siefring, Curtis Uhlenhake and Ryan Bruening all had two hits for St. Henry.
Schoenleben finished 2-for-4 with an RBI for the Panthers.