Saturday, May 6th, 2017
Taking care of business
Student makes 2 national contests
By William Kincaid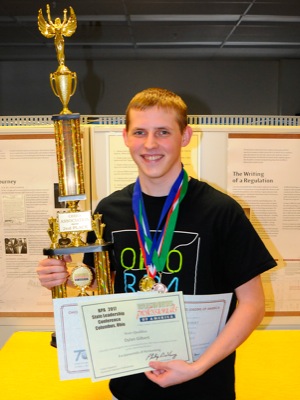 CELINA - A Celina High School senior will be seeing lots of Mickey Mouse on both coasts in the coming weeks thanks to his accounting prowess.
Dylan Gilbert, the son of Ed and Sara Gilbert, recently achieved top scores on accounting tests at state competitions for Business Professionals of America and Future Business Leaders of America, enabling him to compete in nationals at both Disneyland and Disney World.
"I've worked for Tri Star for 23 years, and this is the first time I have ever seen a student advance to national level competitions with two different student organizations," Tri Star administrative assistant Sue Eichenauer said.
According to Celina accounting teacher and FBLA adviser Carol Bader, the self-motivated Gilbert in the fall set his sights on making it to both national events.
"I wanted to plan to go to both of them not really knowing that I would make it to both of them," Gilbert said.
Gilbert is enrolled in Tri Star's business management program and is a member of its co-curricular BPA as well as Celina High School's FBLA.
In March, Gilbert took accounting tests at the state level for both FBLA and BPA.
"It involved anything from balance sheets, income statements to basic accounting questions ... just a whole bunch of accounting concepts into one," Gilbert said. "I studied off my old tests, I went over some problems that I got wrong off of my regional test and I just kind of hoped from there that my knowledge would get me far."
Bader said Gilbert "is a hard-working, dedicated and detail-oriented student."
"Approximately 480 students from 20 FBLA chapters across the state of Ohio competed in the FBLA competitive events this year," Bader said. "Dylan finished first in the Accounting 1 and third in the Accounting 2." That feat made Gilbert eligible to compete in the National FBLA Competitive Events at Disneyland in Anaheim, California, June 29-July 2.
He also finished second in the fundamentals of accounting competition at BPA's State Leadership Conference, propelling him to the national BPA Leadership Conference set for May 10-14 at Disney World in Orland, Florida.
Interactive media instructor Lisa Sheppard went with a group of local BPA members to the Columbus competition.
"We were all so excited to hear Dylan's name called," she said. "Then when he received his trophy, his smile filled the room. He met his goal."
Gilbert said he is fairly confident about the national competitions, at which he will be accompanied by the BPA and FBLA adviser at the respective events.
"I'm just hoping that with my practice and preparation I've done so far, hopefully, it will lead me in the top 10 but we'll see what happens.
Gilbert's fellow BPA members are donating a portion of the proceeds from their spring plant sale toward his trip to Disney World next week.
Also, Gilbert and Bader are writing letters to local businesses seeking donations to support his journey to California this summer.
Numerous administrators and instructors were unanimous in their praise of Gilbert and his accomplishments.
Celina City Schools Superintendent Ken Schmiesing called Gilbert's achievements "impressive."
"Another Celina student attaining high honors here, and certainly it's great to see for the FBLA program as well as the teachers and other students," he said.
He called Gilbert a role model for his younger classmates.
Tri Star Director Tim Buschur applauded the career-minded student.
"Dylan has worked very hard to achieve the goals he has set for himself," Buschur said. "He is very deserving of the awards he is receiving. Dylan will be an excellent representative of Tri Star at BPA National Competition in Orlando."
Where does his drive come from?
"To be blunt, I'm just a stubborn person," he said. "When I plan on something, I plan really hard and try to work to achieve it."
Asked about his interest in accounting, Gilbert said he took a fancy to numbers in the eighth grade.
"It was something I could learn real fast and I understood everything, other than some other subjects," he said.
Business management instructor Lynne Ray pointed out that Gilbert's BPA test results helped land the student a scholarship at the University of Northwestern Ohio, where in the fall he'll major in accounting and join the bowling team.
He's not quite sure what he wants to do after college, but any job involving payroll would suit him well, Gilbert said, adding "I'm a big fan of money."
"I would like to start up in a company from the accounting position and maybe perhaps run the ladder as I continue to work there," he said.
Anyone interested in donating toward Gilbert's California trip can call Celina High School.