Tuesday, May 9th, 2017
Flyers come through
Griesdorn's home run lifts Marion past Fort Recovery in tourney play
By Gary R. Rasberry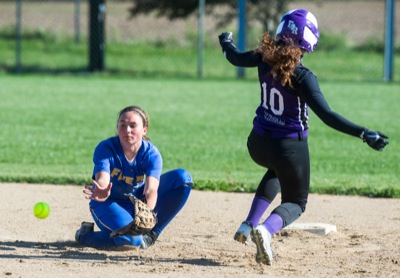 MARIA STEIN - After both Fort Recovery and Marion Local scored two runs each in the first inning, it appeared that the teams' Division IV softball tournament opener would be a high-scoring affair.
Instead, both teams went scoreless until the sixth before Maddie Griesdorn's home run helped the Flyers beat the Indians 4-2 at the Airport in Maria Stein.
The Flyers (8-8) now play second-seeded New Bremen on Thursday for a chance to advance to the Wapakoneta district.
The Indians (3-18), who had scored just five runs in their previous four games, got out to a good start as Rachel Thien led off with a double and one out later, Hannah Knapke doubled in Thien for the first run. After a strikeout, Lydia Wenning singled in Knapke to make it 2-0.
The Flyers answered thanks to a walk and two errors by the Indians. Macey Griesdorn drove in Lexi Arling on a ground out and Sarah Fesenmyer scored when Kara Evers reached on an error to tie the game.
From the second inning through the fifth, though, the offense dissipated. Fort Recovery starter Olivia Homan scattered five hits through those innings, but great defense, including the throwing out of a runner at third, kept the Flyers from getting a run.
"It was very impressive. Compared to some games, they played good defense tonight," Fort Recovery coach Tammy Post said. "They were ready to play."
Flyer pitcher Amber Schmitz was equally impressive, scattering two hits over the rest of the game with no walks and seven strikeouts.
"She's been pitching good once she's settled in," Flyers coach Jerry Moeller said. "She mixes it up pretty good."
In the bottom of the sixth, Maddie Griesdorn took Homan's first offering just to the right of the 210-foot sign in center field to break the tie. Lauren Sanders followed with a double and went to third on a passed ball, but after Schmitz popped out, Marah Moeller grounded to third, where Knapke threw home to Aleigha Jenkins, who applied the tag for the second out. Chloe Bertke followed with a double to score Moeller to make it 4-2.
"Maddie had that nice home run. She's been hitting the ball pretty well," coach Moeller said. "We got some runners in scoring position (earlier) and they threw them out. It was a good defensive game."
"I thought Olivia did a great job," coach Post said. "They didn't start hitting her until the sixth inning, which is good. We had a couple plays we could have made that could have helped her out a bit. Overall, I thought they played really well today."
All that remained was for Schmitz to get three outs in the top of the seventh, which she did with two strikeouts and a popout to first.
Rachel Thien went 2-for-3 for the Indians.
Arling was 2-for-4 for the Flyers.