Saturday, May 13th, 2017
Neighbors worry about dairy's impact
4,500-cow operation planned near Neptune
By Nancy Allen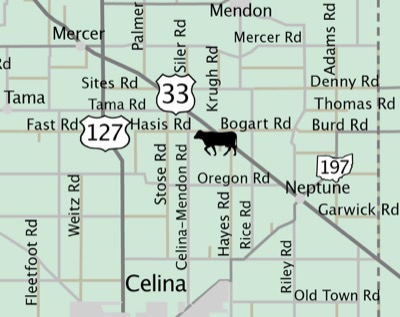 NEPTUNE - Some neighbors near the site of a proposed 4,500-head dairy northwest of Neptune said they have concerns about the project.
The 82-acre site is located adjacent to Hasis Road on the south side of U.S. 33.
MVP Dairy LLC is a partnership of VanTilburg Farms of Celina and McCarty Dairy LLC of Colby, Kansas. MVP's owners on March 20 announced plans for the multimillion dollar facility and on April 20 held an informal open house for people to ask questions.
Three neighbors who recently spoke to the newspaper said the open house lacked a presentation and question-and-answer session and was not an appropriate format to learn about the project.
They said they have concerns regarding odor, increased traffic around the dairy, manure runoff, exhausted wells, groundwater contamination and decreased property values.
"My biggest concern is having well water that is going to be fit to drink," said Charlie Wurster, who lives on Bogart Road northeast of the site. "What's going to happen if we get a lot of rain and the manure ponds overflow?"
Wurster said the proposed dairy will only add to the growing number of animals in the area, pointing to several livestock farms, mostly turkey operations, that have gone up in the last year or so.
Bogart Road resident Jeremy Leugers lives less than a mile from the proposed dairy and has a host of concerns. He said he plans to request an Ohio Department of Agriculture public hearing on the operation.
The ODA's Livestock Environmental Permitting Program reviews permit applications for Concentrated Animal Feeding Facilities. After the ODA deems an application acceptable, the department announces a 30-day public comment period for the draft permit to install and the draft permit to operate. The process allows concerned citizens to view the permits, asks questions and request a public hearing.
Twenty people must make a request before ODA will schedule a public hearing, said ODA spokesman Brett Gates. The farm owners can also schedule one in advance.
Leugers said the sheer size of the farm bothers him the most.
"I would not have a problem with a dairy, but when you're doing something of this magnitude that close to houses, I'm against it," he said. "It's too unpredictable for me to say I am for it."
Leugers also worries about odor as well as the prospect of manure leaching into groundwater and contaminating wells.
"My concern is - some time in the future - will my well go dry and will the waste seep into the ground?" he wondered aloud.
Leugers said he and his wife had discussed selling their home at some point; now he fears the dairy will lower their home's property value.
He also will lose his scenic view, he said.
"My entire view from every window from the back yard of my house I am going to be staring at transparent cow barns," he said.
Tim Townsend, who lives about a mile east of the site, said he needs more information before forming an opinion about the operation. A more formal forum is needed to address neighbors' concerns, he said.
"I want to be sure that they have checked the effect of that many cows will have over the long term," Townsend said. "Will it raise nutrient levels in our area?"
Townsend worries that more livestock operations will pop up in northern Mercer County, traditionally a grain farming province. He also wondered if a traffic study had been conducted and what will happen to manure during winter.
Gates said all permit applicants must study groundwater availability. A Mercer County groundwater availability map included in MVP's permit application indicates a limestone aquifer is capable of producing up to 400 gallons of water per minute, he said. The application indicates the facility will use more than 100,000 gallons of water a day and will register with the Ohio Department of Natural Resources water withdrawal program. State permitted farms are not allowed to apply manure to frozen and/or snow-covered ground, Gates said.
Jared Ebbing, Mercer County Community Development director, said an aquifer associated with the ancient underground Teays River valley should supply adequate water to the farm.
"Historically the water in the Neptune area is right on or near the Teays. There is a good water vein out there," he said. "I would be shocked if they did not have a lot of good quality water."
Luke VanTilburg of VanTilburg Farms said the enclosed barns, their manure-flushing system and a state-of-the-art anaerobic manure treatment system will keep odors down.
"The barns will be tunnel ventilated and fully enclosed and use fans to control the temperature of the building," VanTilburg said. "They are not open-sided like a traditional free-stall barn."
Every few hours manure will be flushed from the cow barns' aisles to keep water from standing and attracting flies. The anaerobic manure treatment system should produce little to no odor water, VanTilburg said, adding the same type of systems are used at municipal wastewater treatments plants. Speaking to the concern that manure lagoons would overflow, VanTilburg noted that the ODA requires that extra storage space be maintained on all the lagoons in the event of a big rain event.
"Thats all regulated through the ODA. It's an engineered ODA facility which means we have to have a certain amount of freeboard (extra storage) so they are not clear full in case of a big storm," he said.
VanTilburg said the dairy would increase traffic on U.S. 33 by about 1.6 percent.
Mercer County Engineer Jim Wiechart said some discussion has taken place about creating a Tax Increment Finance district near the dairy to fund improvements to Hasis, Celina-Mendon, Hayes and Bogart roads, which would see increased traffic. Center Township trustees would likely ask county commissioners to set up the TIF.
"For us, it's a reaction to a large development," Wiechart said. "It's a way to encapsulate a portion of some of the potential tax revenue that would be earmarked for that infrastructure that is affected by the development."
In the past, the county has paid upfront costs for road improvements and is later reimbursed through the TIF.
"You don't do (a TIF) on every ODA-permitted facility, but this is a large one and it is reasonable to consider one," Wiechart said.
With regard to concerns over soil nutrient levels, VanTilburg said farm officials will grid sample 100 percent of the acres upon which the dairy's manure will be applied to ensure they are at acceptable levels.
"We only apply what is needed in a growing season to what the corn will actually use and recycle," he said. "We will be removing more nutrients through crop harvesting than what we are (adding) in applying manure."
Speaking to concerns about groundwater contamination, VanTilburg said all the engineered lagoons will have clay linings to keep them from leaching.
"We did soil borings on the site to make sure there is clay there," he said.
VanTilburg encouraged anyone with questions to contact him.
Gates said since ODA's LEPP was formed in 2000, several permit applications have been withdrawn for a variety of reasons. Also, many permits were changed based on public comments, and in one instance in 2011 a county board opposed a poultry facility. That permit was ultimately denied by ODA because it did not meet the requirements of local infrastructure for a Major Concentrated Animal Feeding Facility.
The LEPP received the MVP's permit applications on March 20, Gates said. The permits remain under review. Gates said he did not know how long the process would take.

MVP Dairy details:
A dairy operation proposed by MVP Dairy LLC would have six cow barns, according to an architectural drawing.
The site also would have two manure-settling basins, each capable of holding about 8 million gallons; a 32 million gallon anaerobic wastewater cell; a 27.5 million gallon irrigation pond; and a 4 million gallon pond for silage runoff.
The facility, a partnership of VanTilburg Farms of Celina and McCarty Dairy LLC of Colby, Kansas, would employ about 35 people once operational.
The design includes a visitors center to educate groups about the dairy's operations, farm officials have said.
Current employees of the McCarty family from Kansas will move to Mercer County to manage the new dairy.
Tom Menke, a consultant for MVP who is working with the Ohio Department of Agriculture on the dairy's permit-to-install and permit-to-operate said the farm would annually produce about 12 million gallons of liquid manure and 25 million gallons of treated wastewater that would be applied via a center pivot to 800 acres of surrounding farmland owned by the VanTilburgs and others.
The drawing includes a site for a "future potential" digester, which would convert methane into energy.
The cows would be milked using a rotating carousel. The farm would provide milk to the Dannon Yogurt plant in Minster.
The farm would use corn and silage from local farmers for feed and implement a variety of conservation and precision agriculture techniques to protect the environment and water quality, MVP officials said.
Cover crops, no-till methods, grid soil sampling and grass filter strips along open ditches, and variable-rate nutrient application technology would be used on the farm to improve soil health, reduce runoff and protect water quality, according to MVP Dairy. The farm would use sand bedding which will be separated from waste, washed and reused.
Construction is slated for early summer, and the dairy would be operational by spring 2018.
MVP Dairy would become the largest dairy in the county if the state approves its permits to install and operate. Large livestock farms must obtain permits from the state and are inspected every five years.
The county's current largest dairy farm, Heartland Dairy Holdings LLC, 3101 Tama Road, southwest of Rockford, has 1,200 dairy cattle.

- Nancy Allen