Monday, May 15th, 2017
Ballou wins in comeback weekend
By Mike Ernst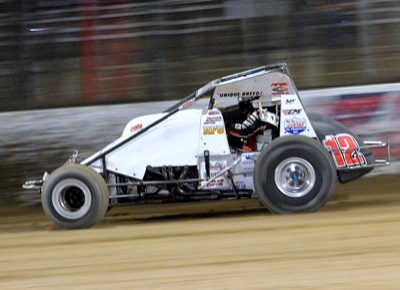 ROSSBURG - Eight months ago 2015 United States Auto Club (USAC) Sprint Car champion Robert Ballou suffered a broken neck in a crash in California and few thought he would ever race again.
After having been cleared to return to the cockpit on Thursday, Ballou returned to the track on Friday night and then returned to victory lane Saturday night, winning the USAC portion of the #LetsRaceTwo event at Eldora Speedway.
Eight-time World of Outlaw Craftsman Sprint Car Series champion Donny Schatz wrapped up the weekend by leading all 30 laps of the Outlaw feature to pick up his 10th career Eldora win.
"Being able to come back and race a sprint car again is a victory in my mind," Ballou said. "I was faced with some circumstances where, in reality, I should've died. Obviously, someone wasn't done with me and I'm still here. It's sure been a long road. To come back at Eldora, I think everybody was excited fanwise, but I think they were all pretty leery. I've always loved this place, though. It comes pretty natural to me."
Ballou, of Rocklin, California, finished seventh in his return to the seat on Friday night, but on Saturday night he found himself near the front from the start of the race, starting third.
Ballou quickly dove below front row starters Landon Simon and Chris Windom to momentarily take the lead in turns one and two before Windom powered around Ballou in turn two.
After hounding Windom for the first 17 laps of the 30-lap feature, Ballou made his move for the lead in turns three and four with the leaders in heavy-lapped traffic. Windom went to the low side of the speedway, while Ballou stayed on the high side of the high-banked oval.
While Windom was held up momentarily by the lapped car of Matt Goodnight, Ballou took advantage and powered around the outside and into the lead. Once out front he pulled away and appeared to be heading to the win but the event's only caution flew when Landon Simon got turned upside down in turn three on lap 26.
The ensuing restart proved to not be an issue as Ballou quickly pulled away from Windom for his fifth career USAC win at Eldora while the remainder of the field battled for position in the closing laps.
"When there's five laps to go, lapped traffic has gone away and you're the leader, you end up being a sitting duck," Ballou explained. "Eldora's famous for the restart slider, so I tried to move down. I wasn't going to slide myself because I've seen that bite people as well, but I tried to move down to make sure I didn't hit the hole after the red flag when the tire pressure started getting lower. Tire pressure drops under a red flag and my tire really lost a lot of air. I ended up hitting a hole anyway. A lap of spinning the tires rose the pressure again and, from that point forward, we were pretty good."
Windom held on to finish runner-up. Fast qualifier Brady Bacon, Friday's winner Justin Grant and Tyler Courtney completed the top five. Chase Stockon, Stevie Sussex, Dave Darland, Scotty Weir and Aaron Farney completed the top 10.
"I knew our tire was pretty blistered there at the end," Windom said. "(Crew Chief) Derek Claxton gave me a great race car, as always. We were good the first half of the race, but I kind of caught traffic wrong and couldn't pick my way through those battles exactly like I wanted to in traffic. Robert got by me there and he was better than us at the end."
Heat races were won by Weir, Farney and Josh Hodges.
Schatz started on the pole in the World of Outlaw feature and while Brad Sweet challenged him early and Chad Kemenah charged from eighth to challenge him late, neither could find a way to wrestle away the lead.
"That's not me. That's this race team," Schatz said from Eldora's victory stage. "These guys are incredible. They're all capable of being crew chiefs on this car. They feed off each other. Sometimes I don't give the best information. I try to do my best job, but some days I'm racing Lap 29 and they're trying to figure out how to start the race. It's just lucky to be around great people like that. It's fun to get a win, especially here at Eldora."
The event's only caution flag flew on lap 20 when Shane Stewart crashed in turn three setting up a 10-lap dash to the finish and the $10,000 top prize.
While he couldn't chase down Schatz, Kemenah was thrilled to finish second after failing to qualify for the feature event on Friday. It was Kemenah's third runner-up finish in four starts in the #LetsRaceTwo Outlaw features over the last two years.
"We'll take second against these guys," said Kemenah. "You know, they are the best."
Rico Abreu made a late-race move around both Sweet and Jason Johnson to claim third. Sweet and Johnson completed the top five. Friday's winner Logan Schuchart, third-generation driver Kraig Kinser, Joey Saldana, Tim Shaffer and Sheldon Haudenschild completed the top ten.
Shaffer, Sweet and Johnson won the three heat races, while Paul McMahan captured the Last Chance Showdown.
Drivers Travis Philo and Jac Haudenschild did not compete on Saturday night after having been involved in a scary crash on Friday night. Both were transported to local hospitals but both were released on Saturday morning.
USAC driver Dallas Hewitt, who finished runner-up in Friday's main event, was transported to a local hospital following a heat race flip on Saturday. On Sunday, Hewitt reported through his Twitter account that he had been released with a concussion and a hand injury.
Eldora hosts its first Family Fireworks night next Saturday night. A bevy of family-friendly events begins when the gates open at 5 p.m. On-track activities featuring the UMP DirtCar Modifieds and the Eldora Stock Cars begin with hot laps at 6:30 p.m. and first race starts at 7:30 p.m.