Thursday, May 18th, 2017
Wildcats roll past Cards
Division IV District Softball
By Dave Stilwell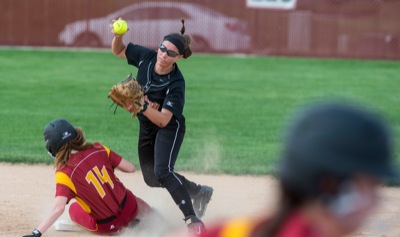 WAPAKONETA - Minster jumped out to an early lead and never eased up in a 19-5 five-inning victory over Midwest Athletic Conference rival New Bremen on Wednesday in the Division IV softball district semifinals at Wapakoneta High School.
The victory earned the Wildcats (18-9)  a trip to the district finals on Friday at 5 p.m. against MAC champion Parkway. The Panthers (21-1), ranked third in the state, are riding a 20-game winning streak which includes a 5-1 regular season win over Minster on May 9.
Minster scored the first seven runs of the game, including four two-out runs in the top of the first inning.
Emma Schmiesing doubled home Danielle Barhorst and then scored on a single by Jenna Poeppelman. Following a walk to Taylor Homan, Alice Schmiesing laced a single to left that ended up plating two runs to give the Wildcats a 4-0 advantage.
"We wanted to establish the tone early, and I thought we came out head first," Minster coach Robb Hemmelgarn said. "We always tell them that when we bat first, we want to take control early. We were able to do that tonight."
Minster added an unearned run in the second and scored two more in the third thanks to an RBI triple by Homan.
New Bremen's bats came alive in the bottom of the third, but a tremendous catch by Alice Schmiesing in right field ended the rally, the inning and the momentum.
Five singles in the inning had plated three New Bremen runs. With two on and two out, Kelly Naylor launched a drive to right. Schmiesing made a running, reaching, tumbling, over-the-shoulder catch that Willie Mays would have been proud of to end the inning.
"That was huge," New Bremen coach Craig Griesdorn said. "It's 7-0, we score three and their right fielder makes a heckuva grab to save two runs. At 7-5 it's a whole different ball game. Maybe they're a little bit more nervous and we're a little bit more relaxed.
"We were thinking two runs," Griesdorn added. "I saw it when it was hit. She (Schmiesing) just dropped, stepped, sprinted, made a heck of a grab. Give her credit."
"She's kind of been an unsung hero for us in right field all year long with her speed, her glove and her arm," Hemmelgarn said of Schmiesing.  "In my opinion, she's one of the best right fielders around, and she showed why tonight."
Minster exploded for 12 more runs in its final two at-bats to shorten the game to five innings.
Homan socked a three-run homer in the fourth, Laney Hemmelgarn added a two-run homer, Emma Schmiesing belted a two-run single and four New Bremen errors contributed to eight Wildcat runs in the fifth.
"Give Minster credit, they just kept hitting and that's the difference in the game," Griesdorn said. "Seventeen hits and then add eight errors to that, it's difficult to win a ball game."
Minster's tournament win avenged a 12-9 loss to New Bremen during the regular season.
"We really respect New Bremen and that program," Hemmelgarn said. "We're neighboring towns, huge rivals and they beat us earlier in the season. We challenged the girls to get better today because there is no tomorrow when it comes to the tournament. We gave it everything we had in practice, everything we had in the game and everything kind of came together."
Poeppleman picked up the win in the circle for the Wildcats. She struck out six, allowed eight hits and four earned runs. She also helped out at the plate, going four-for-four with two RBI. Barhorst added three hits, While Homan knocked in four runs with two hits.
Sophie Fox went the distance in taking the loss for the Cardinals. Jenna Broerman led the way at the plate with a double, single and an RBI.
With eight seniors on its roster, New Bremen ends its season at 16-5.
"These seniors have done an outstanding job for us," Griesdorn added. "We're finishing a four-year stint where they've had the best record of any class. All the credit is with them because they stuck with it. Sorry to see it end this way but we've got some good solid underclassmen that will lead us next year."