Friday, May 19th, 2017
Group aims to keep lake safe
By William Kincaid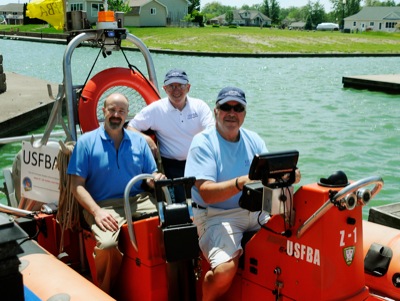 CELINA - A group of boating enthusiasts will offer free vessel safety checks on Saturday at the Celina lighthouse harbor.
Those interested in ensuring their vessels are in proper shape to traverse Ohio's largest inland lake this season can either dock their boat at the harbor or pull it up on a trailer next to the lighthouse from 10 a.m.-3 pm. U.S. Freshwater Boaters Alliance members will inspect the boats.
"It's the start of National Safe Boating Week," USFBA chief information officer Jeff Marcum told the newspaper. "We do what we call a cruise-in."
USFBA members Denis Knapschaefer and Chuck Webster are both certified by the U.S. Power Squadron to conduct U.S. Coast Guard vessel safety checks. They'll be joined on Saturday by many other USFBA members and their boats.
"People bring their boats in. The vessel safety check is free, and that way you can make sure your boat's ready for the season," Marcum said. "There's a whole checklist that they go through and it's essentially things to make sure that the boat is safe."
"And the occupants," USFBA member Larry Stelzer pointed out.
Knapschaefer and Webster are certified to inspect any type of boat seen on Grand Lake.
"It's primarily the legal requirements and then there's discussion around things like radio and other items," Knapschaefer added.
For instance, boaters are not required by law to carry an anchor, but both Knapschaefer and Webster agree that people are crazy not to carry one to help secure their vessel until help arrives in the event of engine trouble in windy conditions.
Marcum said the group towed to safety its first boat this year one night at 3 a.m. The police initially told Marcum that the distressed boater was reportedly near Safety Island.
"When I actually located them, they were on the rocks over by Coldwater Creek, and the reason was they didn't have an anchor and the wind was blowing out of the northeast," Marcum said.
USFBA also recommends people equip their boats with VHF marine radios.
"When we're boating, we're patrolling. That's our saying," Stelzer said. "At any given time we usually have five to 10 boats out on the lake and pretty much canvass the whole lake with those radios. It's pretty slick."
USFB, formed by former members of the U.S. Coast Guard Auxiliary and incorporated as a nonprofit organization in February 2013, consists of more than 40 close-knit volunteer members who maintain an almost constant presence on the lake throughout the boating season. When on the lake, the boaters are on patrol- ready to help people in distress. The members can, among other things, provide a tow. However, they don't enforce laws or wear uniforms.
All members have marine radios, have their boats inspected annually and undergo a boating safety class.
Marcum said he boated for years before taking the safety class and was amazed at the things he didn't know.
Stelzer agreed, saying he learned "how to come into a dock with the wind blowing."
Last year, USFBA towed 24 boats to safety, spent 529 hours in support of lake events, logged 775.5 hours on lake patrols and drove 2,935 miles in personal vehicles conducting USFBA business in local communities.
Most of the boats on Grand Lake are pontoons, Stelzer said.
"We've become a pontoon lake more than anything else because of the shallow water. It used to not be that way," he said.
Knapschaefer estimates that more than 1,000 boats can be seen on the lake during holiday weekends.
"The remarkable thing is even with all those boats, it doesn't look like that many boats because it's such a vast lake," Knapschaefer said about the 13,500-acre Grand Lake.
Mercer County Sheriff Jeff Grey recently turned over his office's nonemergency boating calls to the USFBA.
Last summer, when the department's failing, 30-year-old Boston Whaler had to be towed back to shore, Grey said he struck an agreement with USFBA to respond to nonemergency situations. The USFBA members began responding to boaters' 911 calls. They also can be reached at radio channel 68 or by hotline at 419-318-9139.
"Because they all live around the lake and if there was a boat in distress, they've got a phone system set up and dispatch would call them. Especially if somebody's in the lake in trouble," Grey told county commissioners in December.
USFB members can usually respond to a distressed boat within a matter of minutes, Marcum said.
Generally, USFB members respond to boaters who are having engine trouble or run out of gas. They'll provide a tow at no cost.
"We don't take money, but if you want to do something for us make sure when you go home you tell people, 'What a great community this is or a great lake it is, what a good time you had' and come back and see us again," Marcum said.
Stelzer and Marcum also pointed out that USFBA members are good ambassadors for Grand Lake.
"We put a couple of thousand people on the water each year in Lake Fest and Freedom Days and it's all courtesy of our members," Marcum said about the free boat rides they offer in the summer. "We do that out of our own pocket using our own boats, our own fuel."
"I've been boating for probably 45 years and this whole thing has added a whole new dimension to boating for me - the camaraderie, the radios, the opportunity to maybe help somebody," Stelzer said.
The group is always looking for additional volunteers.
"The more members we have, the better we can perform our mission," Knapschaefer said.
For more information about USFBA, visit
usfreshwaterboatersalliance.com
.