Tuesday, May 23rd, 2017
Champions at last
Cavs edge Pats for first district title since 2002
By Colin Foster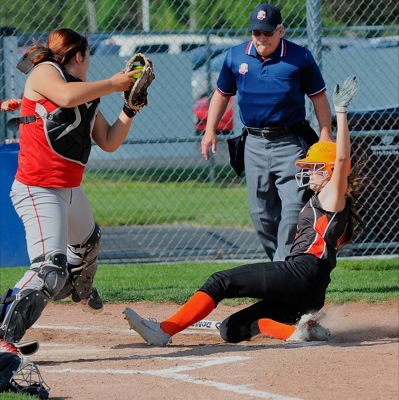 BATH TOWNSHIP - Coldwater has won district titles in many sports over the past decade.
None, however, had been won by the softball team.
That changed on Monday as the Cavaliers captured their first Division III district title since 2002 with a 5-4 victory over Patrick Henry at Bath High School.
"This group of girls was successful in volleyball, successful in basketball, successful in soccer, so they know how to win," said Coldwater coach Katie Berno, who had pitched for the 2002 Cavs. "When you have a group of girls who knows how to win, you know they can carry it on to different sports. I did expect big things out of them. It was about putting the pieces together and meshing together and they did that today."
Maura Hoying singled home Carly Post for the go-ahead and stay-ahead run in the fifth and Coldwater ace Maddie Steinke brushed off threats from the Patriots in each of the final three innings to secure the victory.
"We proved that we're a great team tonight," Berno said. "We kept fighting and did what we needed to do."
Coldwater (18-8) will now face fourth-ranked Cardington-Lincoln (23-4) in Wednesday's 5 p.m. regional semifinal at Findlay High School.
Patrick Henry hadn't allowed a run in its first two postseason games, but that didn't last long once Thursday's game began.
Post doubled off Becca Jones to open the game and Olivia Harlamert followed with an RBI single to center. Hoying then hit a single to score Harlamert and advanced to second on the play at the plate. A ground out to short by Danielle Welsch scored Hoying for a 3-0 lead.
The Patriots went scoreless in the first two innings despite having runners in scoring position during each at-bat. They cut the deficit to 4-2 in the third on solo home runs by Megan Rosebrook and Natalie Herder.
Patrick Henry took the lead the following inning. Steinke hit Erin Diem with a pitch to open the frame and then Leah Jones hit a single. The runners moved to second and third on a wild pitch. Later, Faith Frania and Rosebrook had RBI fielder's choices to give the Patriots a 4-3 advantage.
Payton Welsch was walked by Jones to open the top of the fifth. Post scored her with an RBI triple to the right center gap and then Hoying singled for the game-winner.
"Maura and Post definitely have huge bats and I've said that from the beginning," Berno said. "I don't think those girls get the recognition that they deserve. They are two of the best hitters in the state and they deserve that recognition."
Patrick Henry left the bases full in the fourth and stranded 10 runners on base in the game, including five over the final three innings. The go-ahead runner was on second with two outs in the bottom of the seventh when Makenzie Kern grounded out to Kelsey Kahlig at third to end the game.
"They had a quick start and we battled back and our girls didn't give up," Patrick Henry coach Mike Meyer said. "We left a lot of runners on base and you can't do that. You have to capitalize. We didn't do that."
Steinke struck out two, walked two and allowed nine hits in a complete-game effort. The sophomore left-hander improved to 18-7 on the season.
"Maddie did a great job," Berno said. "She kept the ball low when she needed to keep the ball low and kept them off-balance and got those easy ground balls. Our defense is going to make those plays behind her. We're a very solid defensive team."
Hoying, Post and Harlamert all had two hits for the Cavs.

About Cardington-Lincoln:
The Pirates were a Division III regional semifinalist last season, losing to Milan Edison at Bellefontaine High School. Cardington won the Mid-Ohio Athletic Conference Blue Division title with a 13-1 division record and 23-4 record overall. The Pirates edged Johnstown-Monroe 3-2 to win the Pickerington district title.
Whom to watch: Alyson Adams, senior second baseman. Adams was a first-team All-MOAC Blue Division selection. Alyson Adams is batting .597 with a team-high six home runs and 39 RBIs. Younger sister Bayley Adams starts at third base and leads the team with a .600 average to go with five homers and 30 RBIs. Brooklyn Whitt, another first team Blue Division selection, is batting .584 with a team-high 41 runs scored to go with 28 RBIs.
Freshman Casey Bertke has been the main starting pitcher for the Pirates. Bertke is 7-3 with a 2.64 ERA. Makenna McClure (10-1, 3.38 ERA) could also pitch.
The other semifinal: Colonel Crawford (20-5) takes on Eastwood (26-3) in the opening game of the semifinals. Crawford beat Galion 10-1 to win the Lexington District. Eastwood edged Archbold 5-3 to win the Maumee district.