Wednesday, May 24th, 2017
Making monsters
Coldwater native elicits screams with his weird creations
By Sydney Albert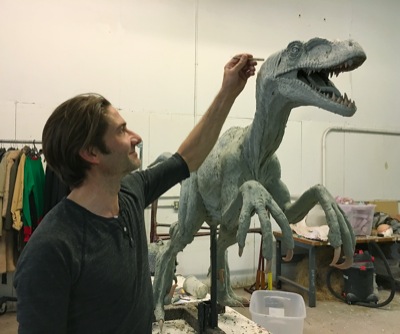 COLUMBUS - Ever since he was a kid, Coldwater native Bo Bruns loved making weird monsters and sculptures.
It started when his parents took him to see "Star Wars" when he was four years old. The movie "blew my mind," he said, and he became obsessed with how people made the monsters and aliens seen in films and in theater. Decades later, Bruns has been lucky enough to become a "monster maker" in his own right.
After graduating from the Columbus School of Art and Design in 1998, he worked for a few years for a company that designed horror and monster props. In 2003, Bruns founded Unit 70 Studios in Columbus, and since then his company has become one of the most highly regarded producers of animatronic monsters, Halloween horror props and haunted house creatures in the world.
"It was a childhood dream, and I got really lucky to be able to do it," Bruns said.
Growing up in Coldwater, Bruns admitted that at times his creepy doodles and creations would freak out his teachers. His then-art teacher, Nick Wenning, however, figured out early on that he was "mostly harmless" and allowed him the creative freedom to make the most of what Bruns could imagine.
When he first started making props, it was to play pranks on the local mailman. Bruns would craft crude cut-off arms and hands and leave them on the ground, watching from his bedroom to see what reaction he got.
"Thank God he never called the police," Bruns laughed.
Though the mailman may not have entirely appreciated his props, Bruns, who graduated from Coldwater High School in 1994, now has people all over the world putting in orders.
Unit 70 Studios has clients in the "haunt" industry in several states, from Ohio to New England. If you've ever visited King's Island during Halloween Haunt season or gone to Cedar Point's HalloWeekends, chances are you've seen some of Bruns' creations. The business also serves international haunted houses and amusement parks in places like Canada, Columbia, Mexico, Spain and China.
"It's kind of like Halloween year round here," Bruns said.
October, the spookiest time of the year, is actually the quietest time for the studio. By then most clients have their props. As soon as November 1 rolls around, though, the calls start coming in from people planning for next year, he said. Some of their clients from overseas don't necessarily celebrate Halloween, so they may place orders year round. Bruns explained that as the haunt industry has grown, so too have the budgets and planning that go into the haunted houses. Orders can come in for Halloweens years down the road.
Every year, Bruns and his employees get together to plan out 15 or 20 new designs, but it can be hard to predict what people will want. Pop culture can have a big influence on what will be a hit - zombies have been consistently popular, for example, but when the "Pirates of the Caribbean" franchise was popular, Bruns and his team found themselves making tons of zombie pirates to meet demand.
Making monsters involves different procedures. For something more human, like a zombie, the artists at Unit 70 might start out making a body cast of a real person to create a mold, Bruns said. For something like a dinosaur, the design starts off as a clay sculpture, built up piece by piece. From there, the artists can change the facial expressions or carve out areas for gore. The final props are created from latex rubber or foam. Body details such as hair are usually some of the last add-ons.
Bruns majored in computer animation, which he says helps him when making some of the animatronic props. The animation software he learned to use is somewhat similar to what is now used for engineering the robotic parts in his monsters. When setting up a character in computer animation, he thinks about how the character is going to move and how it will look, which translates well into programming his creations, Bruns said.
A convention for people in the haunt industry is held every year in St. Louis, Missouri - a gathering of the weirdest people from every town in America, Bruns affectionately put it. Despite its growth, the haunt industry remains small and everyone tends to know each other, he said.
"The business is fun. The people who do it for a living are really fun," he added.
Of course, the industry has a dark side. Unit 70 Studios is rather well-known and widely respected in the industry, said Bruns, in part because they've survived for so long. As fun as it can be, Bruns said he's found the competition can also be cutthroat. When Unit 70 was just starting out, a larger prop supply company was trying to make life difficult for the start-up, which became public knowledge in the haunt industry, according to Bruns. Aside from the quality of their products, Bruns thinks a lot of the respect has come from making it through that early rough patch.
Persistence is key, he noted.
"Don't let anyone say you can't," Bruns said. "I always wanted to do this stuff for a living, be a monster maker, and it seemed like a really weird or exotic thing to do, like wanting to be a rock star or astronaut, but somebody's got to do it. Somebody's got to have that job."
And for any kid out there who might have an unlikely passion or an obscure interest they want to turn into a career, Bruns offered this advise: "Just do it, and don't be afraid to dream big."