Thursday, June 1st, 2017
Celina home damaged by fire
By Sydney Albert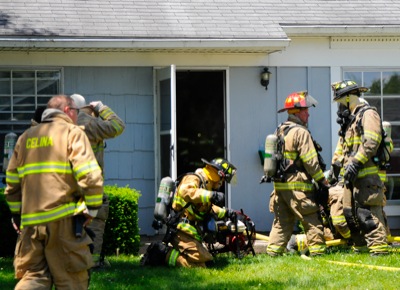 CELINA - Celina firefighters spent about two hours on Wednesday dealing with a house fire at 909 Rosewood Drive.
Celina Fire Department personnel responded at 12:52 p.m. with three trucks and 10 firefighters, who were on the scene for about two hours. Smoke billowing from the home could be seen from the surrounding streets. The fire in the one-story single-family home was contained to a utility closet and hallway.
The home owned by William Mertz was being rented by Brian and Lindsay Gilliland and their three children. Brian Gilliland and the children were able to escape the home without injury, and Lindsay Gilliland wasn't home at the time of the fire. The American Red Cross is assisting the family.
The home sustained moderate damage but was insured, according to a news release from fire chief Douglas Wolters. Wolters said the fire's cause appears to be electrical in nature and is under investigation.