Saturday, June 3rd, 2017
Crash kills Celina woman
By Ed Gebert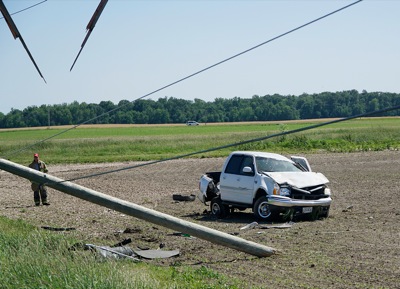 WASHINGTON TOWNSHIP - A 52-year-old rural Celina woman was killed Friday afternoon after a one-vehicle crash on Township Line Road.
Alice L. Buschor, 2577 Mud Pike, was southbound on Township Line Road just north of state Route 29 when her Ford F-150 went off the west side of the road, according to a Mercer County Sheriff's Office news release. She overcorrected and lost control of her vehicle going off the west side of the road again, striking a utility pole. The truck rolled, and Buschor was ejected from the vehicle.
She was pronounced dead at the scene, according to the Mercer County Sheriff's Office.
Two witnesses each stated that speed was not a factor.
Sheriff's personnel were assisted at the scene by members of the Celina Fire Department/EMS and by Mercer County Coroner Dr. Timothy Heinrichs.
The incident was the second fatal crash in Mercer County in 2017. On May 2, a straight truck and a car collided at the intersection of U.S. 33 and U.S. 127, killing a passenger in the car, Brandi M. Duke, 30, Celina.