Thursday, June 8th, 2017
Typical Johnsons anything but
CD release party set in Coldwater for area band
By William Kincaid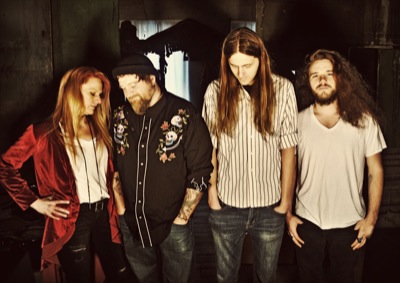 With a couple of records and countless gigs under their belt, members of the Minster-based alternative country act The Typical Johnsons feel they're closer than ever to realizing the sound and style they've been chasing for years.
To celebrate this month's launch of "Rustbelt Renaissance" - to be available on multiple platforms including Spotify, Amazon and iTunes - the band is holding a CD release party on June 16 at McSobers in Coldwater.
The band consists of married Minster couple Jeremy and Lynne Siegrist on vocals and guitars; New Knoxville natives Andy Brogan on lead guitar and Jeff Brogan on bass; and drummer Dave Gregory of Cincinnati.
The Siegrists sat down with the newspaper and spoke excitedly about their third release.
"We've sat on this record for four months now. It was done for four months," Jeremy Siegrist said. "We picked this date specifically so we could get our ducks in a row."
Seeking to broaden their sound, which the couple said is influenced by Johnny Cash, Drive-By Truckers, Son Volt and many others, they enlisted the help of producer Chuck Alkazian and headed up to Pearl Sound Studios in Canton, Michigan.
"We actually worked with somebody seriously reputable, and this is the real deal," Jeremy Siegrist, a former Navy man who's turned his sights exclusively to rock 'n' roll, said. "We recorded this in a soundstage, a real studio. This is our best shot that we've had."
Though they may have upped the ante in terms of song production, the couple insist the way they write tunes hasn't changed.
"It's pretty solid now. I'll either come up with an entire song or she'll come with verses or a chorus and then we'll refine the lyrics and a basic chord structure," he said.
That structure is then sent on to the rest of the band, adding on parts as they see fit.
"That frees up the other guys to really focus on creating their own identity inside that song," Jeremy Siegrist noted.
He said the end result is a mix of alternative country, punk and "probably a little bit of southern rock," which can often lead to difficulty fitting into a concert bill.
"They want to put us with country bands, and we don't necessarily fit with them. They want to put us with punk bands, but we're probably a little bit too light for an out-an-out hard-core punk band. They want to put us with rock bands, but we don't sound like rock," he said.
And perhaps that's why so many people have gotten behind the band, the couple said.
"What we're doing is a little bit harder to classify. Honestly, it fees like alt-country to me," he said about the genre that typically mixes the energy and muscle of rock, the sensibilities of indie rock and the honesty of traditional country.
The band has lined up several dates for the summer to promote the new record, including gigs in Coldwater and Celina and festival appearances. They say their shows today consist of about 80 percent original tunes.
When they started out five years ago, billing themselves as Jeremy & Lynne, the couple focused mostly on cover songs while performing at open mics and small shows.
"It's hard to play your own songs. You're really putting yourself out there," Lynne Siegrist said.
"To play covers is hard enough - and it is hard," her husband added. "But to play and play your own music, you're taking a step, a leap of faith. A lot of times we play to uninterested crowds because they don't know what we're playing. That's been changing."
But with guidance from local musicians, the duo grew in confidence and began mixing more and more originals tunes in with covers of the likes of Johnny Cash. And eventually, they want to drop almost all covers from their act.
"I had just been writing all these songs and Lynne chipped in on these songs and one thing just snowballed into another, into another, into another and now we're going to run this train completely off the rails, as far as we can take it," Jeremy Siegrist said.
https://www.thetypicaljohnsons.com.