Friday, June 9th, 2017
Celina's Lonsway ready to see where he lands in draft
By Colin Foster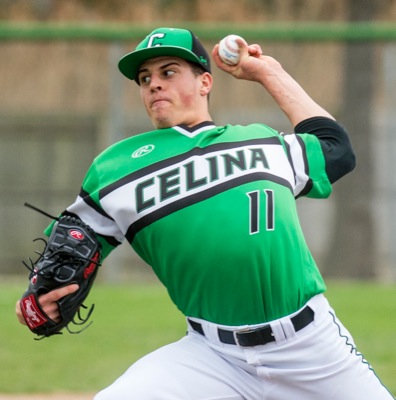 CELINA - Will Seth Lonsway sign a professional contract or will he be with the Ohio State Buckeyes next year?
Exactly what the future holds for the Celina left-handed pitcher will be known next week when the Major League Baseball Draft gets underway.
Lonsway, the son of Donovan and Marta, has been on the radar of every MLB team ever since he hit 94 miles per hour on the radar gun. He's interviewed with the majority of big league clubs, and his advisors have him projected going in rounds two through four.
The draft begins on Monday and runs through Wednesday.
"I'm going to be nervous, excited, you know, all the emotions are going to be going on," Lonsway said. "It's going to be me and my family and my support group. We'll be watching at home and we'll see what happens."
He began peaking the interest of professional scouts last year after his performance at East Coast Pro, a prospect development showcase for elite high school players held in Tampa. The players for the showcase were selected by professional scouts and representatives from all 30 MLB teams were present.
Lonsway has literally had scouts knocking at his door ever since.
"We've had some home visits from different scouts just getting to know me," he explained. "It's also been a lot of questionnaires from different organizations. They want to know basically everything and anything about you. What your mindset is, what you're thinking, your medical records. Anything and everything you've got, they want to know. They just want to get to know you as a person better to see how you'll fit with their organization."
Lonsway - who had a Celina single season record 92 strikeouts as a senior - has gone from throwing in the mid-80s as a sophomore to consistently reaching 90-94 MPH as a senior. He expects to get a lot better by spending time with a pitching coach at the next level.
"Physically, they think I'm ready," Lonsway said. "Mentally, they think I'm ready. There's some different pitches that they think I can sharpen up too. It's kind of crazy because we've talked about it before. I've only really been with two different pitching instructors I would say. The rest has been my dad and I. It's definitely been kind of crazy to think that, you know, if I did get around a pitching coach three to four times a week and worked on different stuff how much better some of my pitches could be."
Lonsway has been in contact with former Defiance pitcher Dace Kime about life in the minors. Kime knows a thing or two about what Lonsway's going through. He was an eighth-round pick of the Pittsburgh Pirates in 2010 but chose to honor his commitment to Louisville instead. Three years later, he was drafted in the third round by the Cleveland Indians.
"I've talked to him and got a lot of insight into what it's like living the life of a minor leaguer, living the life of a pro," Lonsway said. "It's definitely important to know everything it takes at the next level.
"You have to do a lot of growing up," he added. "You're on your own, but you're with your team and you're with other high schoolers. You're together. You're staying in a hotel together, especially in that first year. They kind of keep you grounded and they don't set you up for failure. They set you up to succeed and they set you up to make it. They give you a fair chance. They don't just throw you out there in the world on your own."
And like Kime, Lonsway is prepared to honor his collegiate commitment if he falls in the draft.
"If everything doesn't work out as planned, I'll go to Ohio State and be a Buckeye," Lonsway said. "I'll get a good scholarship at Ohio State and have three good years and then hopefully get drafted my junior year out of Ohio State.
"I'm excited either way. Whatever the route is, it's a win-win for me."
On line video:
See an interview with Seth Lonsway and watch him pitch.