Monday, June 12th, 2017
Bloomquist living the 'Dream'
Driver wins $100,000 race a year after being suspended
By Mike Ernst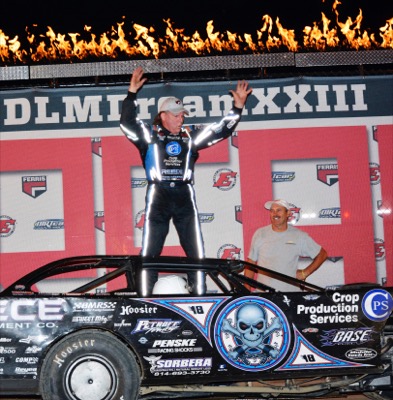 ROSSBURG - The passing of the torch in Dirt Late Model racing will have to wait a little longer.
Dirt Late Model hall-of-famer Scott Bloomquist, now 53 years old, passed young guns Brandon Overton and Brandon Sheppard in the middle stages of Saturday's 100-lap Dirt Late Model Dream at Eldora Speedway and then dominated the remaining laps to pick up his seventh win career win in the $100,000 to-win event.
The win comes a year after Bloomquist and four other drivers and teams were suspended for the 2016 World 100 for using chemically-altered tires in the 2016 Dream. It is a claim Bloomquist still denies, but everyone in the sport knew he came to Eldora on a mission.
"It's like all these big shows, you are just glad they are over with," Bloomquist said after climbing from the cockpit of his machine in victory lane. "Mission accomplished!"
Bloomquist, of Mooresburg, Tennessee, started seventh but moved up to third in the opening 25 laps and then began a long battle with 24-year old Sheppard for the runner-up position. The duo swapped the position back and forth three times before Bloomquist took the position for good three laps past the halfway point.
Two laps later Bloomquist drove around the outside of Overton, who had led since taking the lead from Kent Robinson on lap 12. From there, Bloomquist was never challenged.
"This has always been one of my favorite places to race ever since I first came here in 1988," Bloomquist said. "It is such a beautiful race track and you can race all over it from the inside wall to the outside wall. I can't say enough for how these guys prep a race track. There were a few little bumps but that just gave the track character."
Once out front, the only concern for Bloomquist was negotiating the lapped machines on a tricky Eldora surface that had seen the fastest groove change throughout the 100-lap grind. Bloomquist had stretched his lead to more than eight seconds but slowed his pace in the waning laps to keep his car out of trouble. He eventually won by 4.5 seconds.
"I wasn't really sure (how big the lead was). Then I got to some of the lapped traffic and the 18 car (Chase Junghans) and I about had him cleared. Our air got a little messed up and I got loose so I backed off a little bit and tried not to get too much heat in the tires. That would have cost us more than anything," Bloomquist said.
With Bloomquist comfortably out front, the record Dream crowd was left to watch a thrilling battle for the runner-up spot between Sheppard and Overton. The two swapped positions five times before Sheppard took control of the spot on lap 95.
"That was a fun race there with Brandon (Overton). We always race each other clean, so it was fun racing with him and congratulations to Scott. He was pretty good," said Sheppard, of New Berlin, Illinois. "Once me and Brandon got the line figured out that we wanted to run, we were already too far behind."
Overton, who had won a preliminary feature on Thursday night, was thrilled with his Eldora weekend and his first opportunity to lead a major event at Eldora.
"That's not too bad at all. We will take that," said Overton, of Evans, Georgia. "Congratulations to Scott. If we are going to lose, these are the two to lose to. They are probably the two best teams in the country. Me and Brandon raced each other as clean as we could. We faded a little bit but to get out there and lead we are all tickled to death. I want to thank all the fans here and back in Georgia. This place is pretty cool."
Tim McCreadie finished fourth for his best career Eldora finish, while Chris Madden rounded out the top five after having started 14th. Completing the top 10 were 2014 Dream winner Dale McDowell, 1997 Dream winner Jimmy Mars, Mike Marlar, Earl Pearson Jr., and young second-generation driver Zach Dohm.
Heat races were won by Mars, Shannon Babb, Mason Zeigler, Overton, Robinson and Marlar. B-mains were won by McDowell and Jon Henry. The exciting B-mains were highlighted by defending World 100 winner Bobby Pierce charging from a 24th starting position to a thrilling fourth place finish and the final starting spot in the 28-car feature line-up.
Jacob Hawkins, driving the car owned by St. Henry's Bill Dues, battled throughout the first B-main for a transfer spot into the feature event but came up one position short. Hawkins, whose machine suffered spoiler damage and lost its hood during the 20-lap event, soldiered on and after running as high as third settled for fifth in the B-main.
The Arctic Cat All Star Circuit of Champions returns to Eldora this Saturday for the second leg of the annual Ohio Sprint Speedweek. The Eldora Stock Cars will also be on the card.