Tuesday, June 13th, 2017
Cavs hold off Indians
By Colin Foster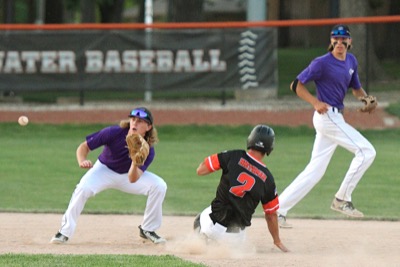 COLDWATER - Coldwater went on top of Fort Recovery early and remained on top throughout.
The Cavaliers scored five runs in the first inning and continued to hold off the Indians the rest of the way in a 10-6 victory on Monday night at Veterans Field.
"We went to Defiance over the weekend and they're a good ball club," said Coldwater coach Tom Brunswick after his team improved to 5-4 on the summer. "We competed with them the first game and then we struggled defensively. We needed to get off to a good start tonight because I think our confidence was wavering a little bit. It was nice to get the five spot."
Fort Recovery starter Garrett Faller had control problems in the first, hitting Austin Riethman with a pitch and then walking Sam Broering to open the game. Jacob Wenning drove them home with a two-run single. Nate Grunden had an RBI double on the next at-bat. He went on to steal third and then scored on a throwing error. Brad Giere, who had walked with no outs, scored on Cole Frilling's RBI fielder's choice and the Cavaliers led 5-0.
Fort Recovery scored three runs on three hits in the second. Will Homan was hit in the back by Coldwater righty Seth Miller to begin the frame. Joe Homan's double to left center made it 5-1. Kody Shinabery followed with a single and then Evan Post walked to load the bases for Evan Post, who hit a double-play ball up the middle to plate a run. Faller added an RBI single later in the inning.
Joe Homan cut Coldwater's lead to 5-4 in the third by singling home Ian Homan after he had hit a double and advanced to third base on a
balk.
But the Cavs cushioned their lead to 7-4 in the bottom half of the third thanks to a pair of Fort Recovery errors. Grunden reached second after an infield error. He went on to score when Alex Wourms' routine fly to center was dropped. Jacob Hartings later added an RBI single to score Joey Welsch.
Giere had an RBI double for Coldwater in the fourth, scoring Grunden after he had drawn a two-out walk and stole second.
Fort Recovery scored an unearned run in the fifth. Reliever Jacob Wenning issued a one-out walk to Ben Homan, who scored on an infield error.
The Indians' margin was cut to 8-6 one inning later when Evan Post drove in Shinabery after he opened the frame with a single and made it to second on an outfield miscue.
But Fort Recovery stranded a runner on third in the sixth and couldn't get anything going in the seventh.
"I just told them we hit the ball well," Fort Recovery coach Kevin Eyink said. "We had eight or nine hits, so you've got to be happy with that. In that first inning, we had a hit by pitch, a couple walks and then they get a couple extra runs off that. We were behind from the start. But overall, I'm pretty happy with how we played."
Wenning had an RBI sacrifice fly in the seventh and Joey Welsch added an RBI single to pad Coldwater's lead to four.
"To Fort Recovery's credit, they came back and made it interesting," Brunswick said. "I was glad to see that we added on because we were definitely losing the momentum. I thought Jacob Wenning did a really nice job. He came in and held them down. They got a couple runs off of him, but he gave us a great chance to win the game."
Wenning threw the final four innings for the Cavs to earn the victory. He allowed four hits and a pair of unearned runs while striking out three and walking two. Wenning also added three RBIs and Riethman had two hits.
Coldwater hosts Archbold on Wednesday. The junior ACME teams will meet at 5:30 p.m. and the big ACME teams will take the field after.
Faller gave up five hits over four innings in a losing effort for the Indians. Ian Homan, Joe Homan and Shinabery all had multiple-hit games.