Saturday, June 17th, 2017
Players in a real pickle
Game's popularity grows at area parks
By Sydney Albert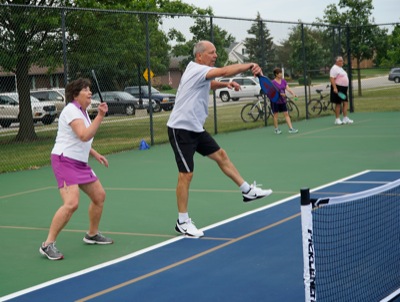 COLDWATER - With local demand for pickleball growing, village officials have started hosting pickleball Thursday evenings in Memorial Park.
Pickleball, invented in 1965, is a relatively new sport with which some people still may not be familiar, but it has been gaining in popularity over the past five decades. Courts have already been added in St. Marys, Minster and St. Henry, and Fort Recovery officials have talked about installing some. For the Coldwater pickleball nights, all people need to do is bring their paddles - which look like larger versions of pingpong paddles.
"It's like a cross between pingpong, badminton and tennis," village manager Eric Thomas explained while playing.
As Thomas explained, his opponents, Trisha Osterholt and Gary Stelzer, were readying themselves with the pickleball, which is very similar in size and appearance to a Wiffle ball.
The teams stood at either end of the court, which is about half the size of a tennis court.
"You serve across, let it bounce, and you have to serve underhand," Thomas continued, lunging into action as his opponents sent the ball over.
In pickleball, teams play until one side scores 11 points, which can make it a quicker game than tennis, Thomas said. There are no sets; a team needs only to reach 11 points. Like tennis, if players hit the ball out of bounds, that's a point against them. If players can't hit a ball that's bounced on their side of the court or hit it into the net, that's a point against them. In front of the net is a small zone known as the "kitchen" that players can't enter unless the ball bounces there first.
"You don't cook in the kitchen," Osterholt joked.
The average age for people playing is between 50 and 75 years, but all ages can play, Thomas said.
According to the U.S.A. Pickleball Association website, the game was originally created by three dads - Joe Pritchard, Bill Bell and Barney McCallum - whose kids were bored with their usual summertime activities. They wanted the game to be easily accessible to children.
Pickleball nights begin at 7:30 p.m. and will continue at least until school starts, Thomas said. The only limitation might be the number of nets. Four are available, but Thomas indicated officials might buy more equipment if more people showed interest.