Monday, June 19th, 2017
Suiting up for drug battle
Officials enact safety measures to protect themselves
By Tom Stankard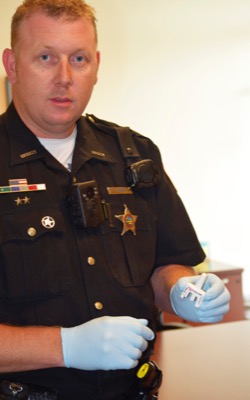 Drug addicts are not the only people at risk of overdosing.
An influx of a deadly opioid is putting those tasked with saving lives at risk if they touch or inhale the substance.
Earlier this year, an East Liverpool police officer was rushed to the hospital after overdosing while merely brushing fentanyl residue off his uniform.
When Mercer County Sheriff Jeff Grey heard this news, he sent an email to his deputies as a warning.
Putting himself into the officer's shoes, Grey described the officer's actions as a "natural reaction."
After this incident, Grey and Auglaize County Sheriff Al Solomon said deputies must be more cautious when searching for drugs.
"Guys know that if they come into contact with it, it may cause some serious health problems," Solomon said.
When searching a car or home, deputies should wear latex gloves to protect themselves from drug residue, Grey and Solomon said.
Mercer County Sheriff's Capt. Doug Timmerman said deputies typically use multiple pairs a week and go through about a box of gloves per month.
But deputies don't always think about putting on the gloves before conducting searches, Solomon admitted.
To prevent instances such as the one in East Liverpool, Solomon said deputies are going to treat "every powdery drug we see like it has fentanyl in it."
If necessary, deputies wear Tyvek suits that cover their whole body. One instance in which deputies would wear this would be when searching a methamphetamine lab, Grey said. Timmerman reported deputies carry two Tyvek suits that cost between $12-$15 apiece.
Celina and St. Marys emergency medical squad members also risk being exposed to drugs and wear latex gloves to help prevent touching drug residue.
"Sometimes there's no other way to prepare other than wearing gloves and things like that," St. Marys Fire Chief Doug Ayers said.
Exposed needles pose a big threat to officers searching for drugs in cars and homes.
If a needle does puncture skin, the law enforcement officer or squad member is required to go to the hospital because he or she can catch hepatitis or other infectious diseases, Celina Fire Lt. Jon Schumm said.
To prevent punctures, Grey said his deputies wear puncture-proof gloves when patting down someone.
Auglaize County deputies aren't equipped with these gloves, Solomon said.
Fentanyl is one of the driving forces behind what Solomon is calling a "serious drug epidemic."
The number of overdoses in Celina this year has already surpassed last year's total, according to records.
Celina Fire Chief Doug Wolters said his department has responded to 22 overdoses so far. Last year, they responded to 18 total overdoses.
In St. Marys, Ayers told the newspaper his crews have responded to 13 overdoses so far. This number, he said, is on pace to surpass last year's, when they responded to 25 overdoses. In 2015, crew members responded to 23 overdoses.
An alarming number of overdoses have taken place in Auglaize and Mercer counties, Grey and Solomon agreed.
So far, Solomon said his deputies have responded to more than 10 overdoses this year. Across the county line, Grey said his officers have responded to 18. Last year, his deputies responded to eight overdoses. Both agreed the problem will worsen before it improves.
Not only has the drug problem become worse, drugs have also become stronger, Solomon said.
In concurrence, Grey said this is because dealers are "making drugs stronger for a better high so users buy more."
According to the Center for Disease Control and Prevention, fentanyl is up to 100 times stronger than morphine and many times that of heroin. A lethal dose of heroin is equivalent to about 30 milligrams. A 3-milligram dose of fentanyl is enough to kill an average-sized adult male.
Drug users generally don't know fentanyl is being laced into heroin, Grey said, making them more likely to overdose.
Generally, addicts don't care if they overdose because they "know they will be saved," Solomon said.
"People are relying on Narcan. They think someone's going to be there to save them, whether that's a buddy, a cop or a squad member," he said.
Narcan is a medication used to block the effects of opioids. Both counties' sheriffs' deputies carry two doses of Narcan with them. A dose costs about $60, Grey said.
One dose of Narcan should be all it takes to revive someone who has overdosed, Ayers said.
Sometimes more doses of the antidote may be necessary, however. He recalled an instance in which squad members administered three doses to one person. This is because fentanyl was laced into the heroin the person had taken, Ayers said.
Celina and St. Marys squad members carry numerous doses of Narcan, which they administer up the nose or via an IV.
Mercer County deputies administered Narcan one time in 2015, two times in 2016 and four times so far this year. St. Marys squad members have administered 20 doses of the medication so far this year. Last year, they administered 35 doses.
Area deputies offer services to those who were administered Narcan. In the long term, Grey and Solomon agreed educating youth is most the effective plan to curb the drug problem crippling Mercer and Auglaize counties.