Tuesday, June 20th, 2017
Effects of megafarms discussed
Residents told of possible negatives
By Sydney Albert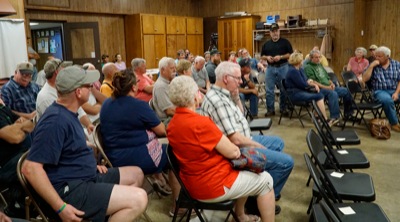 NEPTUNE - Various interest groups and specialists discussed with about 35 local people how large, Confined Animal-feeding Operations have affected different communities around the Midwest.
Jeff Rasawehr, a sustainable agriculture specialist from Birmingham, Michigan, said the proposed 4,500-head dairy to be built northwest of Neptune might bring in some economic activity and a possible influx of new residents, but he also noted possible negatives such as increased socioeconomic disparity, wells running dry and possible antibiotic abuse.
Rasawehr and Ronald Wyss, Lake Erie Foundation adviser and agriculture chairperson, also were concerned with the amount of nutrients the farm would produce. Though people tend to emphasize phosphorous control, nitrogen is just as important as when it comes to algal growth, Wyss said.
Both speakers and locals who spoke up at the meeting were concerned with the nutrient-management issues that opening such a large facility might create, many bringing up the Grand Lake Watershed's distressed status and the current issues with toxic blue-green algae.
Lynn Henning, a family farmer from Michigan and a member of the Socially Responsible Agriculture Project, said that 12 CAFOs had been built in her area, and in 16 years they had accrued 4,700 federal and state violations. Due to improper manure application or lagoon leakage, local wells had been contaminated and were unusable.
The smell neighbors might notice can also lead to a more serious potential issue - hydrogen sulfide poisoning. Both of Henning's in-laws live within 1,000 feet of a CAFO operation and have been diagnosed with the condition, which occurs when the gases from animal waste cause irreversible brain damage.
Henning and Rasawehr agreed that property devaluation was another common side effect for those living close to large dairy operations.
Representatives from MVP Dairy LLC and VanTilburg Farms of Celina, both involved in the construction of the multimillion-dollar facility, were invited to attend but declined. Rasawehr contacted community members in Kansas, where the McCarty family, another group involved in the proposed dairy's construction, operated, and said while people spoke highly of the dairy, no houses were close to any facility.
MVP's owners held an informal open house on April 20 for people to ask questions, and Kyle VanTilburg has been answering questions one-on-one.
According to Dan Toland of Shift-ology Communication, MVP representatives' refusal to show up at the meeting was "not about skirting the issues but about trusting the environmental permit they have out right now."
Scott Muhlenkamp, a resident who would be neighboring the proposed 4,500-head dairy facility, said he attended the MVP meeting and wasn't impressed.
Henning suggested that locals get their wells tested so they can accurately monitor any changes to their water quality and suggested they organize and find a lawyer if they were serious about fighting the dairy.
More than 20 signatures were collected at the meeting, which locals planned to use to call for a public hearing on the dairy's construction from the Ohio Department of Agriculture.