Wednesday, June 21st, 2017
Game ball goes to ... Niemeyer
After state final loss, Russia's Puthoff brings game-winning hit ball to Minster senior
By Colin Foster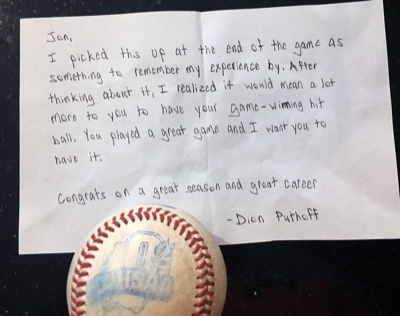 Minster's Jon Niemeyer was the reason Russia left the field heartbroken after the Division IV state baseball final.
From that moment came a heartwarming story.
On June 3, Niemeyer's single in the bottom of the seventh inning allowed Jared Huelsman to score the winning run in a 2-1 victory over the Raiders at Huntington Park in Columbus. The hit gave the Wildcats their third state title in the last seven years and also denied the Raiders their first title since 1971.
As Minster celebrated, Russia shortstop Dion Puthoff slipped the ball into his back pocket and took it with him on the bus ride home.
Nearly two weeks later, he showed up on Niemeyer's doorstep with the ball and a handwritten note.
Puthoff had received the relay throw from left fielder Trenton Monnin as Huelsman sprinted home for the clinching run. Puthoff didn't have a chance to make a play at the plate and pocketed the ball. He had considered keeping the ball as a souvenir and had even joked with teammates about burning it. After having had a conversation with his family, Puthoff decided that giving the ball to Niemeyer was the right thing to do.
"I thought about it for a while and I thought maybe he'd enjoy it more," Puthoff said. "I got to talking with my family and they thought it was a great idea. Then I just went with it."
Puthoff, the son of Al and Mary Jo, dropped off a box containing the ball and note to the Niemeyer residence on June 16. Niemeyer's younger sister, Alyssa, accepted the package and Jon later opened it when he returned from work.
The note read:

"Jon, I picked this up at the end of the game as something to remember my experience by. After thinking about it, I realized it would mean a lot more to you to have your game-winning hit ball.
You played a great game and I want you to have it. Congrats on a great season and great career.
- Dion Puthoff"

"That guy has to have a big heart just to drive 13 miles to my house to give me that," said Niemeyer, who will attend Columbus State this fall to study construction management. "That was a bad memory for him. ... For him to come to my house, it was just really surprising."
"That young man from Russia has it figured out," Minster coach Mike Wiss said. "That's a classy high school kid."
Over the weekend, Niemeyer's father, Bryan, posted a picture of the note and ball to his Twitter account (@niemeyer12) with the caption 'Dion Puthoff of @russia_raiders knocked on our door to give this to Jon. Who says sports don't teach life lessons? Fine young man! #classact.
The tweet had 206 retweets and 765 likes as of Tuesday afternoon, and the story was even picked up by the USA Today.
"All of my coaches either called or texted me and told me they were proud of me," Puthoff said. "I've had friends just joke around with me and ask me for my autograph. My brother Colin asked when we were going to meet the President. Obviously, this is one of the biggest things that has ever happened to me in my life. It's pretty cool."
Niemeyer hasn't yet reached out to Puthoff but he does plan to do so in the future.
"Whenever I get to see him, hopefully sometime soon, I'm going to make sure I give him a big thank you," Niemeyer said.