Thursday, June 22nd, 2017
St. Marys' comeback falls short
By Colin Foster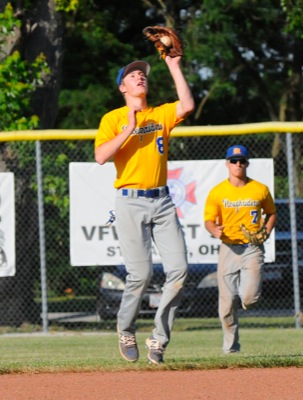 ST. MARYS - St. Marys was making a comeback.
Then Lima Central Catholic pitcher Brendan Stolly shut it down.
With runners on the corners and just one out in the bottom of the seventh, Stolly struck out the final two Roughrider hitters to clinch a 4-3 victory at K.C. Geiger Park on Wednesday.
The game was a pitchers' dual between LCC's Derek Jennings and St. Marys' Braeden Dunlap for the first five innings. The Thunderbirds changed that in the sixth.
Rossi Moore hit an RBI single to score Matt Heider with two outs to end Dunlap's day. Garrett Lauth replaced him and his first pitch bounced on the plate and over the backstop to bring home another run. Drew Smith followed with a two-run single to make the score 4-0.
St. Marys picked up one run in the bottom of the sixth, when Ethan Rose scored on a wild pitch after having hit a one-out single.
Jennings walked Chandler Gray to open the seventh and then Trey Fisher laced a double to right to put runners in scoring position. Stolly entered the game and allowed a two-run single to Clay Quellhorst. A single by Rose put runners on the corners. But Stolly, a hard-throwing right-hander, struck out Wyatt Bailey and Dunlap to end the game.
"It was a pitching dual for the first six innings," St. Marys coach Brian Beam said. "I thought one run would win that game honestly with the way Braeden and (Jennings) were pitching. We've got to start the bats earlier than the sixth and seventh innings to win a baseball game. But our kids battled. That was a great effort by our kids to come back. You can't fault them for that."
Jennings racked up nine Ks, walked just three and gave up five hits over 6+ innings. Stolly had three strikeouts in relief for the Thunderbirds, which improved to 8-2.
Dunlap allowed three hits while striking out five and walking five in 5 2/3 innings. Fisher and Rose each had two hits for the Roughriders, which fell to 3-3-1.